It's been an odd year for everyone, but I know I'm stating the obvious here. For me, this has meant missing out on one of my most significant (and most enjoyable) responsibilities: attending industry conferences and chatting with folks about how AdvicePay can streamline their business. I feel lucky to have snuck in two back-to-back conferences immediately before COVID-19 hit.
As in-person conferences inevitably began to cancel, we knew it was only a matter of time before firms made the switch to virtual conferences. What that would look like exactly, we weren't sure. LPL's Focus 2020 set the bar high for well-executed virtual conferences (for 11,000 attendees nonetheless!).
The Virtual Experience
My biggest question leading up to my first virtual conference experience as a vendor was: "Will the experience of an online booth fall short to the face-to-face engagement I'm used to at conferences?" While nothing may beat enticing an attendee to watch a demo by promising them a free t-shirt, I felt confident and comfortable talking with attendees in a way that was most comfortable for them.
I can only guess at the amount of hard work LPL's team put into not just pulling this off but creating an event that was packed full of phenomenal, easy-to-access information. With breakout sessions, live demos, pre-recorded webinars, and downloadable resources, attendees were not short on valuable information. Leading up to the conference, my nerves were put at ease as LPL offered an in-depth training of the software the week before Focus 2020. My access was even turned on a few days before the conference began so I could test drive the system myself! I was at ease logging in on day one.
I was happily surprised at the number of opportunities I had to interact with attendees: direct chat, group chats, and live demos. AdvicePay resources were preloaded for advisors to access, which made it quick to direct interested attendees to all the information they could need.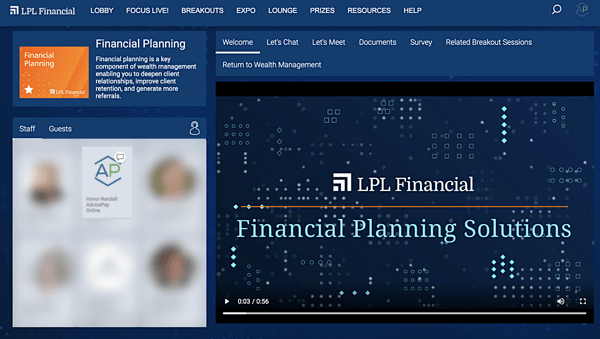 What We Heard from Attendees
We feel honored that LPL's executive team mentioned AdvicePay in several live breakout sessions. This led to most of our demo attendees having a good sense of what AdvicePay is and what it could do for them. Most wanted to see the platform in action: adding clients, sending invoices, and how clients can actually make their payment. We frequently heard how intuitive and streamlined the process was and how grateful advisors are that LPL has given them the means to accept electronic payments for financial planning.
"The main thing that LPL and AdvicePay did for us was move financial planning from a side offering to front and center core service. We have not lowered our AUM fees so it's an additional revenue stream for us, has enormous value for our clients as we dedicate more time to planning, and is easy to sign up."

- Evan Kirkpatrick, CEO & Wealth Manager Wendell Charles Financial
Final Thoughts
I continue to be amazed at the quick innovation companies have shown during the era of Coronavirus. Hosting a completely virtual conference allowed attendees to feel comfortable and still access the information they seek during conferences. If you're debating whether or not to attend a conference this year because it has gone virtual, I recommend you try it out! Check out Michael Kitces' Master List of Financial Advisors Conferences for 2020.
I was thoroughly impressed and cannot thank the Financial Planning team at LPL enough for inviting us to be a part of their booth. My only qualm is I wasn't eligible to receive their really awesome prizes 😉. To the winner of those Air Pods, I'm in total envy!
---
Ready to try AdvicePay?
Sign up for a free 14-day trial of AdvicePay.
---
Posted by Honor Randall

Honor is excited to help AdvicePay users make the most out of our platform to help expand their businesses. Having worked in the financial industry for five years, Honor has considerable experience assisting financial advisors as a paraplanner. When she's not helping enterprises implement AdvicePay into their business, you can find Honor running, cooking, and exploring National Parks with her husband.