When starting out as a financial planning professional, getting paid is unquestionably one of the top priorities when establishing your business. It is key to properly vet solutions that allow you to send out invoices seamlessly, allow your clients to make payments without any hassle, and most importantly, allow you to remain compliant.
While there are a range of billing and payment apps available, it's best to select a platform specifically designed for financial planners and your unique business needs. When evaluating potential solutions, there are six crucial questions you want to be sure to address before moving forward with a payment processing tool.
1. Does it trigger custody?
As advisors and firms expand their services, it is more important than ever to be aware of custody rules. Custody can be triggered if an advisor permits a firm to withdraw client funds, including the direct debit of advisory fees.
When looking at payment processing solutions, you want to determine if the advisor has the ability to enter in a client's ACH or credit card information when setting up an account. This will trigger custody and will make the firm subject to additional compliance requirements.
AdvicePay avoids triggering custody, unlike other platforms, by having the following features in place:
Advisors are unable to withdraw funds without the client's approval.
Clients can either accept or decline a payment request.
For subscription payments, the client has to approve any changes the advisor makes to the recurring payment that would increase the fee.
Advisors never see clients' banking or credit card information because clients enter it themselves through their secure client portal.
2. What payment methods are accepted?
Giving clients various ways to set up their payment method makes it much more convenient and easy for them to pay their invoices -- and ultimately speeds up the process for funds to transfer to your bank account!

Other payment processors, such as RightPay, only allow for clients to set up payments via credit card. With AdvicePay, clients have the option to set up either their ACH banking information (including taxable brokerage accounts) or credit card -- and with our online check deposit feature, advisors can even deposit physical checks right through their phone.
3. Can you update client billing without notice or approval?
During your search for a payment processor, you want to be sure to choose one that allows the client to approve any kind of fee increase before their account is debited in order to proactively avoid any auditing complications.
For example, PaySimple allows an advisor to increase a recurring invoice without the client's approval. This layer of permission managed by the AdvicePay system creates a clear boundary between the advisor's power and the client's control over billing fees.
Missing this extra approval step can raise a red flag to an auditor, costing an advisor time and money.
4. What is the acceptable use policy?
When was the last time you checked or asked about your payment processor's acceptable use policy? It's probably not the first thing that comes to mind when vetting potential payment solutions!
Many popular payment methods such as PayPal, Quickbooks, and Square do not legally allow for the billing of financial planning services. In fact, one AdvicePay client who implemented Quickbooks was kicked off their platform without any warning.
Since AdvicePay routinely updates to keep in check with SEC and state compliance regulators, you can be confident that you will remain compliant while running your business.
"After setting up with Quickbooks and running two cycles of payment processing, we were kicked off without warning." - Kelly Knight, Integrated Wealthcare
5. What client communications are there?
Keeping your client aware of when their card will be billed or confirming payment is of utmost importance when selecting a payment solution. This not only prevents compliance risks but also creates an enhanced client experience.
Other payment processors, such as Square, do not include email communications surrounding payment and invoices that some state regulators require. The AdvicePay platform features client notifications that will alert your clients around the types of interactions and agreements you need to execute. (Not only that, we maintain a record of these communications for you.)
On the Professional or Enterprise AdvicePay platforms, you can further customize the client experience by adding your own logo and messaging to your email communications to support your brand.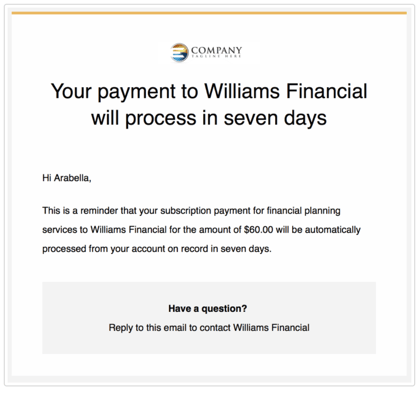 6. Who stores the data? (AKA client payment information)
Lastly, it is imperative that you ask your processor who is storing your client payment information. You want to be assured that this extremely sensitive banking information would never be compromised.
The Square platform does in fact store a client's bank account information, which poses a considerable security risk. We've designed the AdvicePay system to maximize data security at every level of our payment processing by never storing payment data in our own database, encrypting all email communications, and utilizing the Stripe platform to process credit card and ACH payments. Stripe holds one of the most stringent levels of certification available in the payments industry.
AdvicePay also performs an annual SOC 2 Type II audit. The successful completion of the SOC 2 Type II examination and audit highlights AdvicePay's continued commitment to deliver best-in-class solutions and safeguards to protect and secure our customers' data.
This Attestation of Compliance is widely known as the industry benchmark for SaaS businesses and the most stringent examinations of an organization's security controls, policies, and procedures, and we are proud to exceed customer expectations when it comes to protecting their data.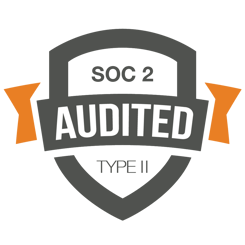 ---
By asking these six questions before deciding on a payment solution to process your clients' funds, you will be confident that you are selecting one that is, above all else, compliant. Following that, it will also be one that prioritizes an intuitive and elevated client experience.
---
Ready to try AdvicePay?
---
Posted by Lana Dalton

Lana is a Happiness Champion (aka Relationship Manager) at AdvicePay and loves helping enterprise users implement and optimize the AdvicePay platform. After graduating from the University of Washington in Seattle, Lana spent the past three years working in the tech industry, helping organizations implement software, create training content, and establish onboarding processes. When she's not helping our enterprise users, you can find Lana trail running, backcountry skiing, and cooking different types of cuisine.