AdvicePay makes it simple to bill clients, but there are always ways you can enhance the experience for you and your clients. Here are our best practices for common billing decisions.
---
Deducting Fees from Brokerage Accounts
With AdvicePay, your clients can pay their financial planning fees directly from their brokerage account (not IRAs or other retirement accounts)! Paying directly from a brokerage account can seem less painful to clients since the fees are being deducted from a (likely) larger balance than their bank account. The best part? AdvicePay doesn't charge you or your clients any additional fees to do so!
Clients will need to set up their brokerage accounts for ACH payments, which usually involves a form from their custodian. Check out our Knowledge Base article, Accepted Payment Methods, for more details!
Including One Time Invoices with Subscriptions
When you're setting up subscriptions on AdvicePay, you also have the option to add a one time invoice. Here's how we typically see advisors use this feature:
Charging an upfront financial planning fee: As you know, the start of a relationship often requires a large amount of work! You're talking with your clients frequently, analyzing their current situation, and creating that oh so important financial plan! Many advisors will include an upfront payment to be compensated for their time and to solidify the relationship.
Prorating first month fees: Some advisors prefer to have all of their clients pay on a specific date, like the 1st of the month. So when a client comes on board mid-month, they'll include a prorated monthly amount and start their full subscription on the 1st!

Setting Invoice Due Dates
It's certainly important to keep your clients' preferences in mind when choosing their bill date, but you should also consider your cash flow and when it best makes sense for you to receive financial planning revenue. This can be especially true if you're just starting your practice or rely on incoming revenue to pay upcoming business expenses. Keep in mind transaction processing times so you can plan accordingly and have funds in your account when you need them.
Using Annual Service Calendars to Set Client Expectations
There are many ways to frame ongoing financial planning fees to a client. One of our favorite ways to explain subscriptions is as an annual fee billed monthly (or quarterly/semi-annually). Sometimes, clients may expect a formal monthly meeting if they're paying a monthly fee. Annual Service Calendars can help set expectations for clients so they know just because they're not hearing from you, doesn't mean you're not hard at work. Check out Michael Kitces' article, Crafting An Annual Financial Planning Service Calendar, for in-depth samples.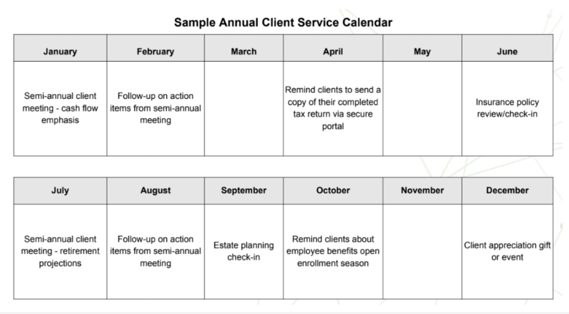 ---
Billing clients, while certainly an important aspect of your practice, shouldn't take a lot of your time. At AdvicePay, we're always looking for ways to make invoicing simpler and more automatic so you can spend less time billing and more time doing what you do best, helping clients! Use these best practices to help establish or enhance your billing process!
---
Posted by Honor Randall

Honor is excited to help AdvicePay users make the most out of our platform to help expand their businesses. Having worked in the financial industry for five years, Honor has considerable experience assisting financial advisors as a paraplanner. When she's not helping enterprises implement AdvicePay into their business, you can find Honor running, cooking, and exploring National Parks with her husband.