Many professionals around the globe are working from home to prevent the spread of the novel coronavirus (COVID-19). In the era of social distancing, working from home can feel lonely and overwhelming. For many, it is a big adjustment, and developing a rhythm for working from home can seem like a challenge, but it doesn't have to be!
At AdvicePay, we are big advocates of working from home. In fact, since AdvicePay's inception, we have always had a policy in place that allows team members to work from home and some even work remotely 100% of the time. Since we consider remote work to be part of our everyday culture, we have compiled a bunch of work-at-home tips that you can implement now so that you can achieve productivity, keep your sanity, and most importantly, feel a little more "normal."
Work-at-Home Tips from the AdvicePay Team
Use Technology to Stay Connected
1. "Messaging and video calls will help make it easy for you to check-in with your team. If you're missing social interaction, be sure to use video and not just audio." -Lucy Robeson, Managing Director
Tip: At AdvicePay, we use Zoom for video calls and Slack for messaging. Both have free plans available.
2. "Use your calendar to track how you are spending each hour. This allows you to find patterns in your work from home life." -Eric Norman, Software Engineer
3."Over-communication is key! Miscommunications can happen since you are not in the office with your team. To avoid confusion, explain everything in thorough detail and share more information than you think is necessary. If you are using Slack for chat, use public channels as much as possible, even if your question or status update only pertains to one person. This helps keep everyone in the loop. " -Shannon Beck, Lead Marketing Specialist
Tip: Set statuses in Slack so team members know what you're up to.

4. Document, document, document! When it comes to new company processes and decisions, projects, customer updates, etc., use shared programs whenever possible (e.g. Notion, Jira, your CRM, a shared Google Drive, etc.), so that everyone can easily see the same information without hunting through chat threads or having to bug individuals. -Erika Madden, Happiness Hero Manager
5. "Set up video calls to chat with coworkers about anything unrelated to work. At the office, deeper connections happen naturally. When you are working remotely, while it is more difficult, it is not impossible to get to know your co-workers on a more personal level. At AdvicePay, we will be hosting virtual happy hours via Zoom. It is a great way to stay connected with your team and unwind during a stressful time." -Shannon Beck, Lead Marketing Specialist
Stay Secure at Home
6. "As always be aware of suspicious emails. During times like these, we typically see increases in phishing emails. These could be related specifically to the current situation, health, working from home, financial, etc." -Scott Doty, Chief Information Security Officer
7. If you are using a wireless connection, make sure the connection is secured. -Scott Doty, Chief Information Security Officer
Tip: Secured connections are noted by a lock symbol next to the name of the connection

Stick to a Routine
8. "Pretend like you are going to the office. Set your alarm for its normal time, make a pot of coffee, get out of your PJs, and work in a dedicated space. Making this mental association will make you more productive." -Honor Randall, Practice Management Consultant
9. "Step away from technology if possible to eat a real lunch. Since you're at home, you can have a yummy meal with a real plate and silverware." -Diamond Alexander, Product Designer
10. "If you normally go to the gym after leaving the office, take your dog for a walk, or do an at-home workout." -Shannon Beck, Lead Marketing Specialist
Elevate your Environment
11. "Play ambient background music that makes you feel like you're in a cool location! I find YouTube videos of coffee shop background sounds or library background sounds so I can feel like I'm working in a more lively place!" -Diamond Alexander, Product Designer
12. "Work facing a window where lots of natural light can come in and you can look away from your screen and beyond the walls of your home." -Lucy Robeson, Managing Director
13. "Wherever you're working in your home, keep the area clean and tidy. It does wonders for clearing your mental space and keeping you in a positive mindset!" -Erika Madden, Happiness Hero Manager
14. "Listen to podcasts, music, or the TV at a low level. That way working from home doesn't get to be too lonely!" -Shannon Beck, Lead Marketing Specialist
Maintain a Work-Life Balance
15. "When you work from home, it can be easy to overdo it and burnout. Be sure to set boundaries and make sure you are taking clear breaks. At the end of the day, close your computer, leave your desk, and don't start working again until the next day." -Lucy Robeson, Managing Director
Tip: Set chat and email notifications to be on sleep schedules.
16. "Communicate your schedule and expectations with anyone who is at home with you. Make sure your spouse, kids, roommates, etc., are aware of your meetings and working hours. We all remember this moment, don't we? I even go as far as making sure my dogs are in another room and have toys and treats handy so that when I am on a video call, they don't start barking. Just because you are home doesn't mean you aren't working." -Shannon Beck, Lead Marketing Specialist
17. "Know your schedule in advance. Just because you're working from home doesn't mean you have to be available 24/7. I've been getting up before my kids so I can have coffee in peace, and then we cook breakfast for everyone, get ready for work, and only then do I check slack and emails and get online! At the end of the day, I silence all work stuff so I can be present with my family." -Mary Moore, Product Owner
18. "Take time to think about your business and to catch up on reading, podcasts, blogs, etc. related to the industry, your career, serving clients, organization tips, etc. If you find you have fewer distractions at home than in the office this can be a great time for learning and reflection while also providing productive breaks away from email and Slack."-Lucy Robeson, Managing Director
Working with Kids
19. "If you find yourself in the position of needing to also guide schoolwork while working at home, some excellent online resources that allow your child to be more self-directed are Kahn Academy and Mystery Science. There's also a popular spreadsheet circulating with a comprehensive list of companies currently offering free educational resources due to school closures: "Amazing Educational Resources" Facebook Group Spreadsheet " - Erika Madden, Happiness Hero Manager
20. "Keep kiddos on a routine with scheduled activities planned in advance! If they are school-age and currently required to stay home, try to match their activities to what would be their daily schedule at school." -Erika Madden, Happiness Hero Manager
21. "To keep distractions to a minimum ("Mom, I'm hungry!"), it's helpful to keep easy grab-and-go items stocked in the fridge and pantry so that things like snacks and lunches don't require much, if any, work. Think grapes, bananas, easy-peel mandarin oranges, apples, cheese sticks/slices, salami, carrots, snap peas, pickles, crackers or rolls, yogurt, peanut butter, and the like! Leftovers are also one of my family's favorite options for no-hassle lunches." -Erika Madden, Happiness Hero Manager
Bonus Resource:
Our friends at XY Planning Network compiled some resources that you and your clients may find helpful during this time. Check it out now!
---
Our Thoughts are With You
We hope you find these tips to be helpful as you transition to working from home during this stressful time. With ongoing communication, collaboration, and self-care, there is no doubt that you will be successful! If you have more tips for remote work, leave them in the comments below. 😊
These are hard times, but as always, AdvicePay is dedicated to being here for you! If you or your clients have questions, please reach out. It's one less thing you have to worry about! You can direct questions about AdvicePay to support@advicepay.com. Our team of Happiness Heroes aims to respond in 30 minutes or less during normal business hours (9am – 5pm MT).
Stay healthy and safe,
The AdvicePay Team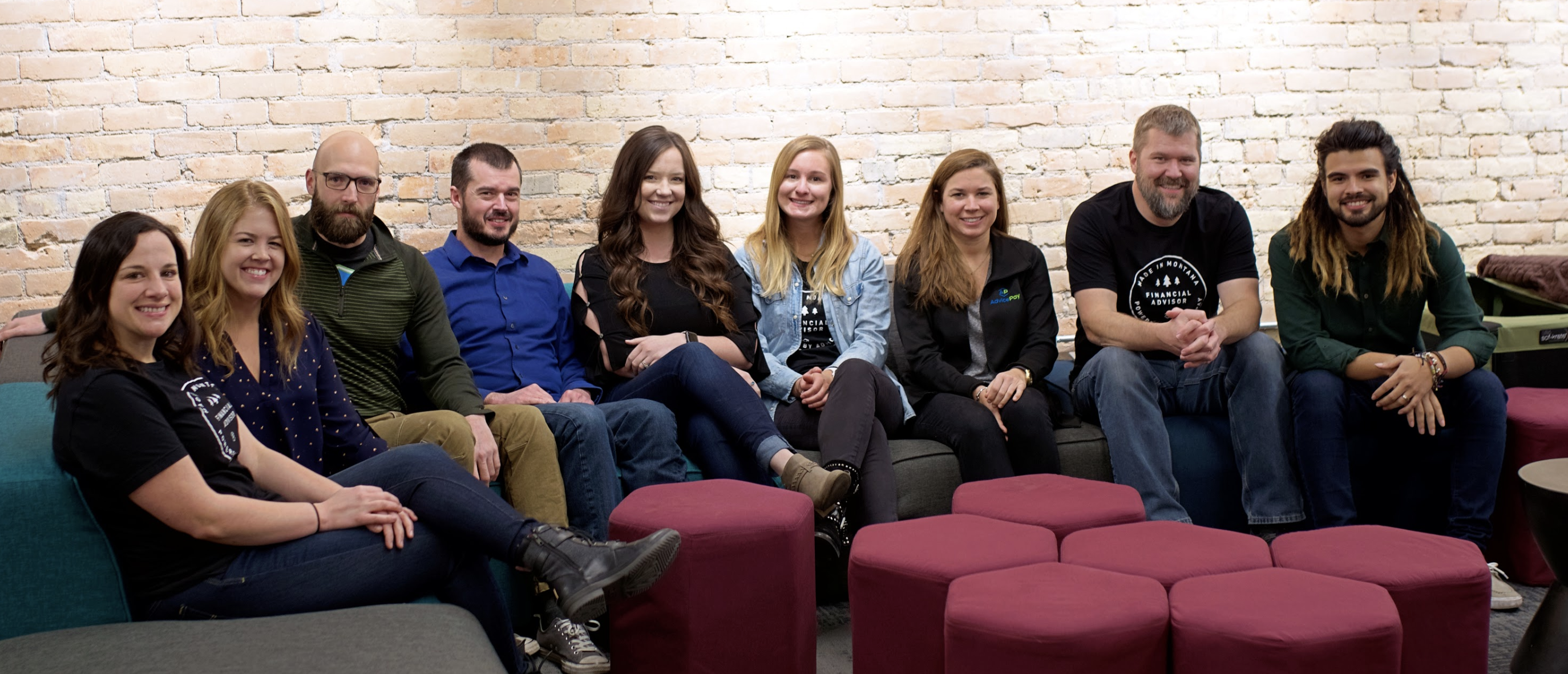 Posted by AdvicePay