Here at AdvicePay our team just wrapped up our 15th quarterly retreat at our office headquarters in beautiful Bozeman, Montana.
Having been lucky to attend most of them since 2018 and see how they've unfolded over time, I felt inspired to share a few reflections on what we've learned!
But first: a quick introductory tour to AdvicePay retreats! What are they? Why do we do them? What do we do?
(Contrary to how it may sound, it's not a time to play – though there's definitely plenty of fun to be had once the workday ends. :))
The first and most important thing to know about our retreats is that they're a framework intended to get our team out of our daily, heads-down "busyness" and take dedicated time to plan our big company goals for the quarter ahead.
As we use the Entrepreneurial Operating System (EOS) model in all aspects of our work, a big part of our retreats revolve around setting new clear quarterly priorities – EOS calls them 'Rocks' – for every person on the team.
For example, if we have a major new feature we want to release in the app, many team members will have Rocks centered on how to make that a success! We spend a lot of time thinking about what we can do to meet our users' needs – and then developing the features and/or resources to support them.
Along with setting these Rocks, we have an Ask Me Anything session with our CEO, Alan, and Learning & Development sessions around critical topics like communication, workplace burnout, and diversity & inclusion.
I think it's safe to say our retreats have been one of the most important ways we've met and exceeded our business goals over the years!
So with that in mind and as I look back at what we've tried here at AdvicePay, here are my thoughts on 5 things that make for stellar retreat experiences.
1. Be on the lookout for what you should change
When we started holding retreats 4 years ago, we had less than 10 people on the team. Much of what we did then is very different from what we do now!

At first we tried to do All The Things at once, which resulted in lengthy, brainpower-intense activities packed together.
For instance, one day we would have a full schedule of meetings together as a company and the next would be all dedicated to Ship-It. (Ship-It is when small groups pick a special project to tackle and "ship"-- aka complete – in a single day.)
As our team and business grew, this became a pain point. For many it was mentally taxing and resulted in more exhaustion than enjoyment.
So, we started changing how retreats looked! We've had several evolutions as we've tried out suggested improvements.

(Gathering everyone's thoughts via a survey after each retreat is a smart way to make sure they can evolve to be the best they can be.)
Today our Ship-It projects take place at a different time of the year, and with less frequency.
We've also built more breaks into the retreat schedule so people can enjoy some down-time!
2. Make it simple for all team members to fully participate
Right now our retreats officially last three days each quarter, with all big activities taking place Tuesday - Thursday.
At least several months in advance of each retreat every single team member is encouraged to block out their calendar for the full week. (Block = no meetings and calls!)
This allows Mondays to be dedicated to necessary work, retreat prep, and gives our remote team members time to travel into Bozeman.
And by the time Friday arrives, everyone is grateful to have a clear schedule to catch up on any essential work, travel back home, or rest after an exciting few days.
One more thing we've learned is that retreats can be especially tough on support teams.
We place a high priority on continuing to be there to help our amazing group of users, as they're the very heartbeat of our company. Meanwhile, we also want our Happiness team to have a retreat!

To promote their engagement in activities and reduce overwhelm as much as possible, we've experimented with both closing the support desk for short periods and reframing expectations around delivering our normal super speedy replies.
3. Be respectful of – and flexible around – family priorities, introverts, and other personal needs
AdvicePay retreats are both productive and fun! In addition to spending time together during the day planning new projects, attending Learning & Development sessions, and even performing community volunteer work, there are often several memorable evening dinners with cool themes and events.
(For example, this January our team went on a horse-drawn sleigh ride!)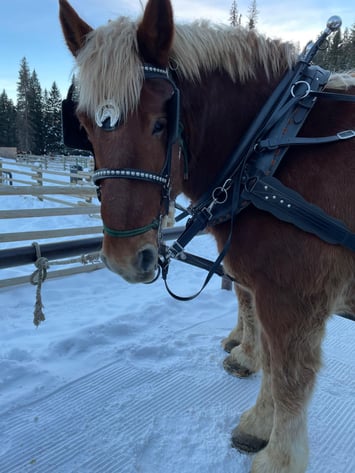 Yet not everyone is energized by – or able to participate in – all this action, and that's okay.
As a team member who happens to be both an introvert and single parent, one of the things I appreciate most is that it's totally acceptable to opt-out of anything that's not strictly work-related or that doesn't fall within the normal workday.
And I'm far from the only one! Others on the team can have different family, medical, or personal needs where they may have to leave early, join remotely, or accommodate their participation in some other way.
One of AdvicePay's Core Values is "Be Well Being You," and this applies to retreats just as much as it does to our normal work routines.
We believe that our people can't be their best self at work if they aren't their best selves in the other areas of their life. How can team members show up at a company dinner and be engaged when they have a sick child/partner/parent at home, or if they're struggling with anxiety?
Being respectful of one another and trusting people to do what is best for them is one tangible way we practice our conviction that work lives are interconnected with personal lives, and work-life harmony is not just possible but also expected.



4. There's really no such thing as over-communication
I think it's normal that those who are in charge of communicating retreat schedules and FAQs can be tempted to feel like they're overdoing it.
I mean, does everyone truly want another Slack message about what in the world is happening on that Wednesday of retreat week?


Yes, YES they do!
What we do now is use a combination of Slack, email, and Google Calendar to try to make information about events as readily accessible as we can.
One little thing I'm most thankful for is having a dedicated Slack retreat channel. I love it when friendly reminder announcements – with Zoom links if applicable – are sent out shortly before each event starts so that nobody misses out.
Every quarter it feels like we get better and better at sharing information earlier, more frequently, and more completely. This goes a long way in helping everyone feel like they're on the same page!

5. Everyone loves easy access to delicious food!
In AdvicePay's early days we would just gather up at lunchtime and head down the street to a nearby restaurant. We were so small we didn't even have to worry about calling ahead to make sure we could get tables!
We've now transitioned to catered lunches from those restaurants and it's been a game-changer.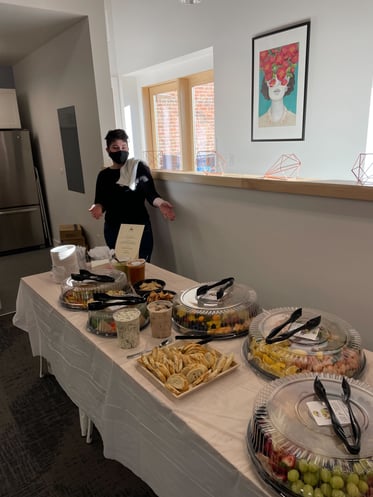 In addition to eliminating the worry about potential seating constrictions or predicting service times, it's wonderful to be able to casually intermingle with others and have a bit more freedom in how lunchtime is spent.

Some people choose to sit down in our kitchen area and have a long lunch with the larger group, while some others prefer to eat with just one or two others elsewhere in the office while continuing a brainstorming session. Either one works!
Another nice perk many of us enjoy is having an abundance of snacks and drinks in a central area that can be snagged at any time.
It's helpful to supply a variety to suit differing tastes. Some favorites for us include sparkling water & juices, sodas, salami, cheese, fruit, and – yes – donuts. :)
---
Your turn!
Do you have company retreats? Any tips or tricks to share with us? Leave your thoughts below!
---
Posted by Erika Madden

Erika is the reason you'll keep smiling, even in the (rare) event you have an issue with AdvicePay. As a mom of three kids with a Journalism degree, a long history of leading customer service, and a mild obsession with Lord of the Rings (extended version), you know Erika has the patience and tenacity to stick with whatever challenge comes up. Her problem-solving and communication skills are amazing, but honestly, it's her volunteer advocacy work with victims of domestic abuse that makes her our real hero.