Here at AdvicePay, we know that the time between Thanksgiving and New Years can be incredibly busy. Many of us are taking vacation, traveling, and trying to wrap up projects before the end of the year.

However, we're betting that you're also working on (or at least starting to think about) your business plans and goals for next year. We're here to serve you with some smart tips on how you can get a head start on your 2022 business initiatives.

Hint: it involves getting signed up for AdvicePay before the clock strikes midnight on December 31st!

While it might seem daunting to get signed up for a new service amidst this equally hectic and merry holiday season, it doesn't have to be! In fact, I've seen that getting started on new platforms during December can instead reduce stress and set you up for greater success in the new year.

As I mentioned, this is a popular vacation and rest time for many people. What does that also mean? Things slow down at work! You might not have as many client meetings, making it the perfect time to reflect on what you want the new year to look like.

Are you wanting to get your fee-for-service business off the ground or increase your fee-for-service revenue in 2022? In getting signed up for AdvicePay now, you'll be able to hit the ground running in January by doing the following:

1. Test out features and connect any integrations you wish to use.

AdvicePay has no shortage of amazing features and time-saving integrations you can take advantage of to run your financial planning firm. But if you sign up for AdvicePay only a day or two before you need to start actively charging your clients, chances are that you won't have the time to casually experiment in your account and explore all that AdvicePay has to offer.

The more time you give yourself to test everything out, the more confident (and relaxed!) you'll be when you need to get your first invoices and documents sent out to clients. Give yourself ample time to play around with our fee calculators, connect any integrations you wish to use, create eSignature templates, and add yourself as a test client so you can send yourself some sample invoices.

We even have a

handy step-by-step guide

you can follow to make sure your account is set up for success! When you need to charge those first few clients in 2022, you'll already be an AdvicePay expert.


2. Review your fee structure and implement any fee escalations for the new year.

Whether you're a veteran or newer to fee-for-service, the end of the year is a terrific time to look at the fees you're charging (or plan to charge) and make any revisions. Are you happy with the fees you're charging? Do you think that you're charging your clients enough or have you been wanting to implement any fee increases in 2022?

We all know it can be tough to have the fee increase conversation. That's why getting on top of it early will set you up for victory once the new year rolls around. I recommend taking some time to review your revenue goals for 2022. Decide how much you should charge and how much you should increase your fees.

AdvicePay makes it incredibly easy to automatically escalate your fees with our fee escalation tool. Building in a fee increase during the initial process of creating your client's subscription will ensure you don't forget to do it later on, as well as ensure that your client knows that the fee increase is coming well in advance!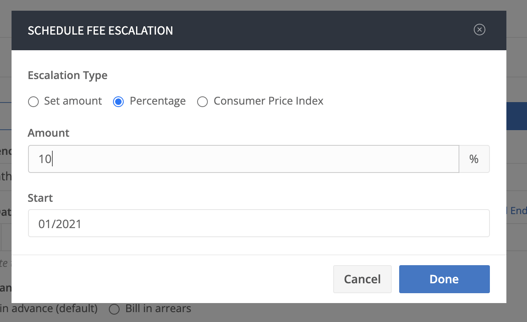 3. Take advantage of our discount through the end of 2021.

That's right -- we're offering a discount so you can get a free month on AdvicePay as long as you get signed up before December 31st! If you'd like to give us a whirl, use coupon code onemonthfree21 when signing up to redeem your free month.
Kick-off 2022 the right way. Start saving time and earning more money through our compliant and efficient system by getting signed up right here today!
---
Get One Month FREE of AdvicePay!
Use coupon code onemonthfree21 to get a free month of AdvicePay Professional on us!
Want to see AdvicePay in action before signing up? C

ontact us at

sales@advicepay.com
Posted by Isabelle McGrail

As a Lead Business Development Associate, Isabelle is excited to help prospective users learn about how they can get the most out of the AdvicePay platform. Prior to joining our team, Isabelle worked for a video licensing company, giving her a unique perspective on sales and customer service. When she's not helping prospective users see all the glory of AdvicePay, you can find Isabelle camping, spoiling her dog, and eating sushi while dreaming of her one-day vacation to Thailand.