Above all else, my passion in life is efficiency. I go out of my way to memorize keyboard shortcuts and I've been using the same color coding system since middle school. That being said, I know it's natural to feel like taking time to master the small things isn't a priority, but I'm here to tell you it can make a world of difference. If you can master these 5 small features, I promise you'll be in and out of AdvicePay quicker than ever.
5 Small Features in AdvicePay that Pack a Big Punch
1. QUICK INFO ICONS

Throughout AdvicePay, you'll see several different icons that allow you to quickly see important details related to invoices and subscriptions.
The Icon:

Where You'll Find it: Invoices & Subscriptions
What it Tells You: There's a contract attached to this invoice/subscription
**Bonus** Click the icon to download/view the contract
The Icon:

Where You'll Find It: Subscriptions
What it Tells You: An upfront payment was/is attached to this subscription
The Icon:

Where You'll Find It: Subscriptions
What it Tells You: The alert icon indicates a change is pending on this subscription. A fee increase or a fee escalation is awaiting client approval
The Icon:

Where You'll Find It: Subscriptions
What it Tells You: A plus sign after a subscription amounts indicates a fee escalation (that has been approved by the client)
---
2. REFRESHING YOUR DASHBOARD

Your homepage dashboard automatically refreshes over night, but it's pretty satisfying to see a big payment beef up your numbers mid-day. Click the

to the bottom left of the dashboard to manually refresh.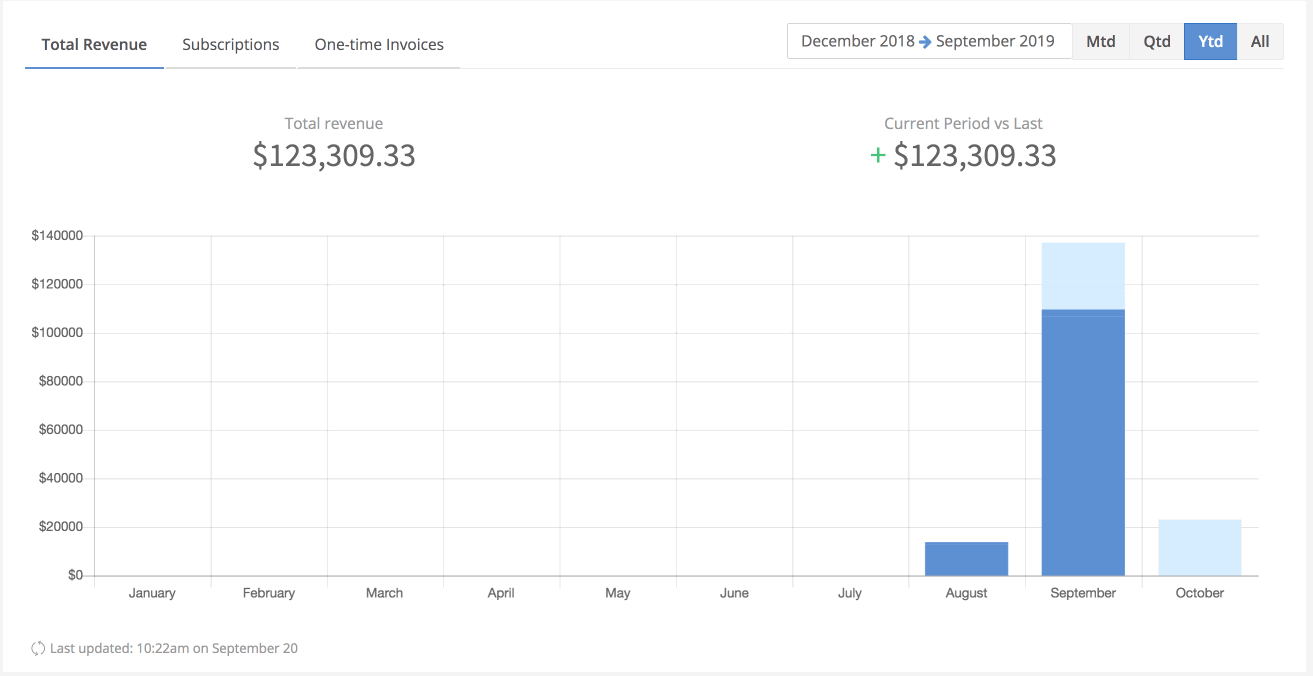 ---
3. SEE MORE (OR LESS) OF JUST ABOUT EVERYTHING
When viewing clients, subscriptions, invoices, etc, you'll automatically have a display of 10 rows. If you're sifting through and want to see more (or less), change the number of rows to 5, 10, 15, or 20 by clicking the dropdown located above the top-right of each list.

---
4. INVOICES VS. ONE-TIME PAYMENTS VS. UPFRONT PAYMENTS
Throughout AdvicePay, you'll see the terms Invoices, One-time Payments, and Upfront Payments. Here's the difference:
Invoices:

Invoices are created for

every single transaction

. You'll be able to see subscription payments, one-time payments, and upfront payments here.

One-time Payments:

One-time payments are

not

connected to subscriptions. They're a stand alone transaction.

Upfront Payments:

Upfront payments are one-time payments that

are

connected to subscriptions. We often see advisors use this to charge a bit more upfront to compensate for the amount of time an initial plan takes, or even prorate the first month of billing.
---
5. GETTING THE RIGHT INFO ON ESIGN CONTRACTS
To ensure your clients are providing accurate information on contracts, you can create a text box that must meet certain criteria on your eSign templates. For example, if you want to make sure your client adds in their email address, you can change the validation type to email. If they try to bypass this field by typing gibberish, they'll be prompted to enter an actual email address.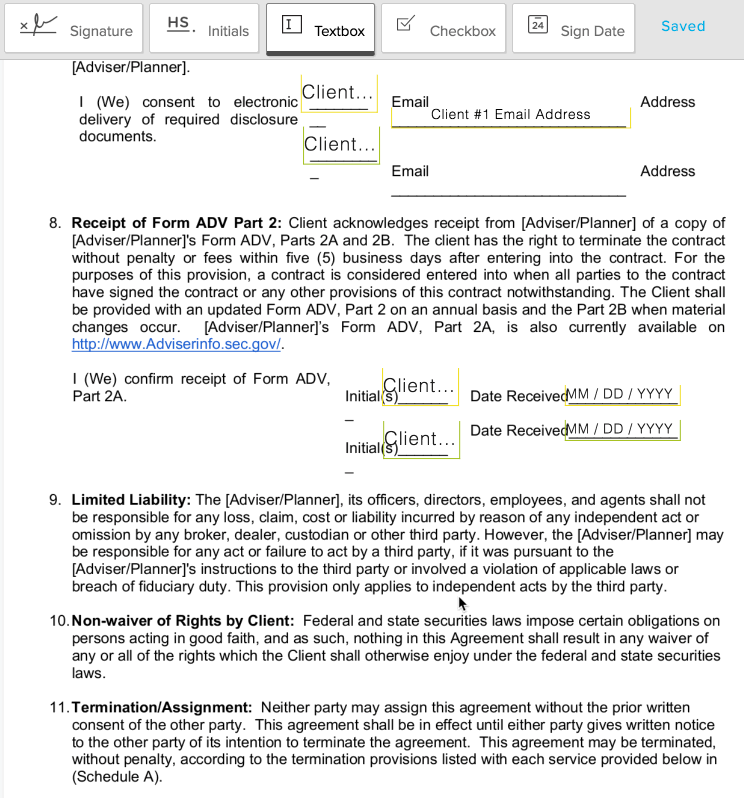 ---
OTHER EFFORTLESSLY EFFICIENT FEATURES WE LOVE
---
We're big fans of big features, but our developers also keep your efficiency in mind with every improvement they make. Mastering the small things will help you navigate AdvicePay easier than ever!
---
Do you have an idea for AdvicePay?
Some of our best ideas for system improvements and enhancements have come from our users! Submit an idea request here.
---
Ready to try AdvicePay?
Sign up for a free 14-day trial of AdvicePay.
---
Posted by Honor Randall

Honor is excited to help AdvicePay users make the most out of our platform to help expand their businesses. Having worked in the financial industry for five years, Honor has considerable experience assisting financial advisors as a paraplanner. When she's not helping enterprises implement AdvicePay into their business, you can find Honor running, cooking, and exploring National Parks with her husband.