The adoption of the fee-for-service financial planning model is changing the dynamics of business operations inside wealth management firms. As low-cost online automated investment services have increased competition for portfolio management and asset allocation services, financial advisors have responded by moving up the value chain and adding a wide array of financial planning services to their business.
But without a well-defined service model to deliver financial planning services, advisors soon discover that unstructured, ad-hoc service offerings don't scale very well. Advisors understand that they need to deliver comprehensive advisory services tailored to the needs of clients in order to rise above industry competition, but such services need to be structured in a way that supports operational efficiency and scalability.
One way to support the scalability of financial planning services in a fee-for-service business model is to structure an annual client service calendar around client engagement and planning opportunities. This post offers a framework for establishing an annual client service calendar that you can customize for the way you deliver financial planning services.
Start with Services
The first step in creating an annual client service calendar is to identify the potential services you plan to offer clients in fee-for-service engagements. Your first instinct may be to identify all of the services clients may need over the course of their relationship with your firm, but with 70 topic areas in CFP Board's financial planning curriculum alone, that list can easily approach hundreds of activities!
Instead, review the past year of your firm's financial planning activity and document the services most frequently requested by clients, as well as the proactive services you delivered to clients.
If you need additional inspiration for the kinds of services that can be part of your annual client service calendar, view our post titled SERVICES YOU CAN PROVIDE UNDER THE FEE-FOR-SERVICE MODEL on the AdvicePay blog.
Identify Service Intervals
With a list of several dozen services at the ready, your next step is to consider how frequently your firm should perform each service internally as part of your ongoing operations as well as those services where you actively engage clients.
The straightforward service intervals to use are monthly, quarterly, semi-annually, and annually. As you review your list of services, identify an interval for each one that makes the most sense for your firm's capacity and alignment with financial planning opportunities that appear throughout the year. For example, your firm's investment philosophy may be to rebalance client accounts once each quarter, so that service interval would be set to quarterly. Year-end tax planning typically occurs during the final months of the year, so that service interval would be set to annually.
Consider building this part of your annual service calendar in a spreadsheet, and once all of your services have an associated service interval, sort the spreadsheet entries by the service interval column. I recommend sorting by annual services first and ending with monthly services at the bottom of the sheet. Note that in Excel, you may find it easiest to configure a Custom List to be able to sort your services by the Annually, Semi-Annually, Quarterly, and Monthly intervals, in that order.
Constructing Your Service Calendar
With a list of services organized by intervals, you are now ready to construct your service calendar. Begin with the annual services and determine which period during the year is the best fit for each service. Again, year-end tax planning is best for the final months of the year, while an annual insurance review may be best during the springtime, as that is the time of year most families consider moving to a new home, triggering updates on homeowners and auto insurance policies.
Continue to populate your calendar with services arranged by semi-annual, quarterly, and monthly intervals until all of your services are identified in your calendar. It's ok if you don't identify the perfect timing for semi-annual and quarterly services, but the good news is that monthly services don't require much thought as to which month they should be performed, as they belong to all twelve months of the year (for example, performing monthly investment reviews of client portfolio activity).
An example of an annual service calendar for your reference is included below, which was built by one of our co-founders, Michael Kitces, and described in more detail on the Kitces.com website.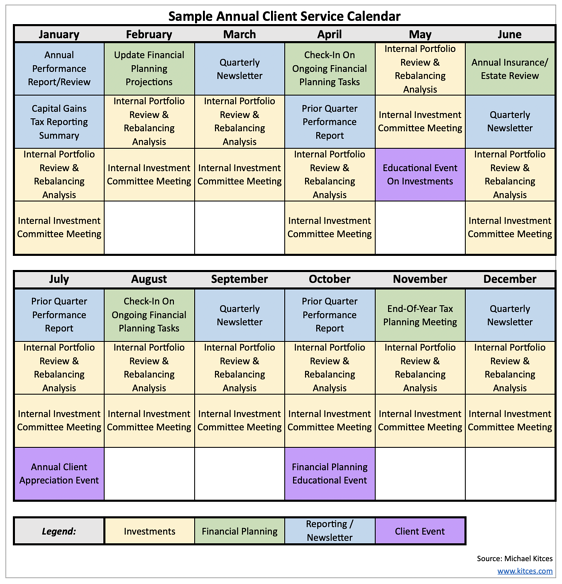 Service Calendar Synchronization
Generally, new clients are not ready to receive financial planning services under an existing annual services calendar. Most clients first go through a firm's onboarding experience which typically results in the delivery of an initial comprehensive financial plan and collection of recommendations. This process can take anywhere from three, six, or even twelve months to complete depending on the complexity of the clients' household financial situation and immediate planning objectives.
Once a household's initial plan is complete, clients are then ready to be added to the annual service calendar workflow and officially enter your firm's ongoing fee-for-service engagement.
Fortunately, AdvicePay's Professional and Enterprise plans support one-time invoices for initial financial plan work, combined with a subscription engagement for all of the services delivered under the annual service calendar.
When establishing a subscription for a new client engagement, advisors using AdvicePay simply select the Add One Time Invoice option, enter the fee for the up-front planning engagement, and then identify the date when the ongoing subscription should begin (after the initial plan is delivered to the client). AdvicePay generates two invoices for these services, but clients can configure their preferred payment method for both the up-front fee and the ongoing subscription in a single step.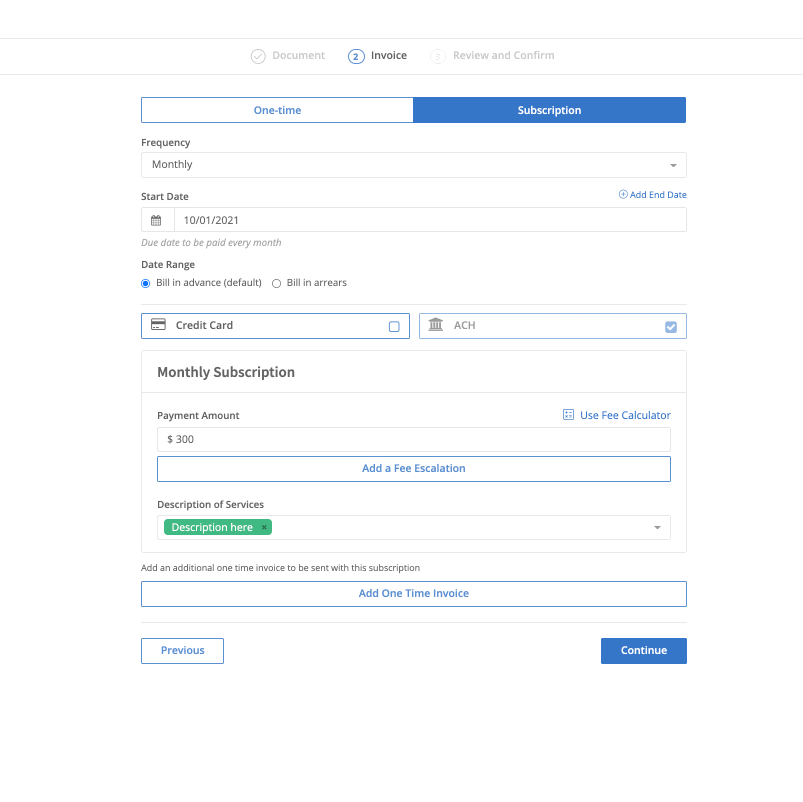 Calendar Compliance Benefits
Finally, establishing an annual client services calendar provides another benefit that is not immediately obvious. Many state securities regulators examine registered advisory firms and pay close attention to those that charge monthly fees and/or recurring subscriptions. If monthly fees are collected by advisory firms, securities regulators want to see evidence that services were performed and/or delivered for clients for each month for which subscription fees were charged.
Supported by a documented annual client services calendar, registered advisory firms can quickly identify all the services rendered to clients engaged in an active monthly subscription. Advisors can also leverage the automated workflow capabilities of CRM software to update client records with affirmations that scheduled monthly services were completed for the benefit of the client and provide such documentation when requested.
Build Your Calendar Today
Establishing an annual client services calendar is a critical resource that structures your firm for operational efficiency and scalability when providing fee-for-service financial planning to clients. The process may seem intimidating at first, given how many discrete services your firm can potentially deliver to clients, but by breaking down activities by service intervals and relevance to client needs, you can develop a clear framework for the financial planning services you perform on an ongoing basis.
Identifying the services you perform on a recurring basis allows you to better quantify your operational needs in terms of advisor capacity, scale a defined set of services to more clients, and determine when to hire additional advisors to support your firm's capacity as more clients engage with your subscription services.
If you're ready to incorporate your client services calendar with fee-for-service subscriptions, use the link below to sign up for a free trial of AdvicePay and get paid for your ongoing financial planning services today.
---
Need a demo of the platform? Register for an upcoming webinar

here

.
Posted by Bill Winterberg, CFP®