One thing we are big believers in here at AdvicePay is efficiency. When automation of billing-related tasks isn't possible, we still want processes to be accomplished quickly and simply -- without any unnecessary steps or undo hassle on your part!

With that in mind, here are two of my favorite, sometimes-overlooked abilities in AdvicePay that will save you a big chunk of time in your workday:
1. Clients can independently update their payment method on a subscription
Once a client is set up on an actively billing subscription, they are all set to stay on that subscription -- even when their designated bank account or credit card changes!

Instead of canceling the subscription, going through the steps of setting up a brand new request, emailing it out, then requiring your client to go back in and activate it from scratch with their new payment information, all your client has to do is:
Log into their AdvicePay account at https://app.advicepay.com
Visit Account Settings > Billing and enter their new checking or credit/debit card information
Select Make Default on the new account listing so that their subscription will automatically bill against that information on their next bill date!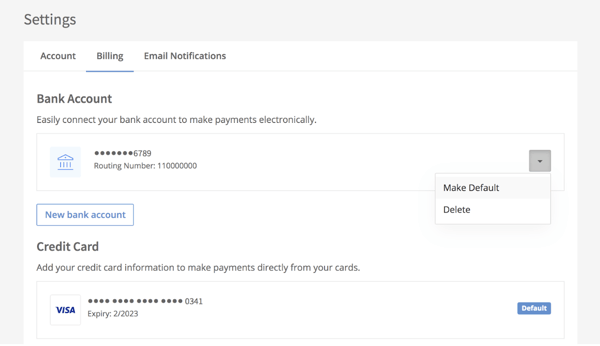 ---
Happiness Hint :)
I find this walkthrough on our client-side help desk is a perfect resource to send out to clients if they reach out desiring a little extra guidance: Updating Your Subscription Payment Method
(Along with our tutorial on how to make a payment, the above is a handy article to include in any initial onboarding documents you give to your subscription clients as well. This way your clients will have it in their hands from the get-go, allowing them to quickly self-help without needing to reach out to your firm later!)
---
2. Clients can fully resolve failed payments (without needing a new invoice!)
We get it: it's not always clear how to best proceed after a payment fails. Is the invoice still "good" or is it invalid in some way? Does your client have to do something? Do you need to cancel or delete it and start over? Can you retry the payment yourself?
A good rule of thumb to remember when working in AdvicePay is that one-time invoices and subscriptions can always remain as they are when a payment fails -- they do not need to be canceled/deleted and reissued in order for your client to successfully pay.
A failed payment does not invalidate, break, or otherwise void the existing invoice...even on a subscription! (When a subscription payment fails, that subscription will continue to bill the client on future due dates.)

On AdvicePay we've empowered clients to self-service their failed payments through their own account -- all without calling or emailing you. To remain a compliant payment platform, we don't even provide the ability to manually retry the payment on the advisor's end. All action must take place by the client!

Here's how it works:
Payments can fail for a myriad of different reasons, and depending on the circumstances your client is notified either within the app or immediately via email. If the payment isn't successfully paid within a certain amount of time, we'll send them another friendly reminder with steps on how to fix it.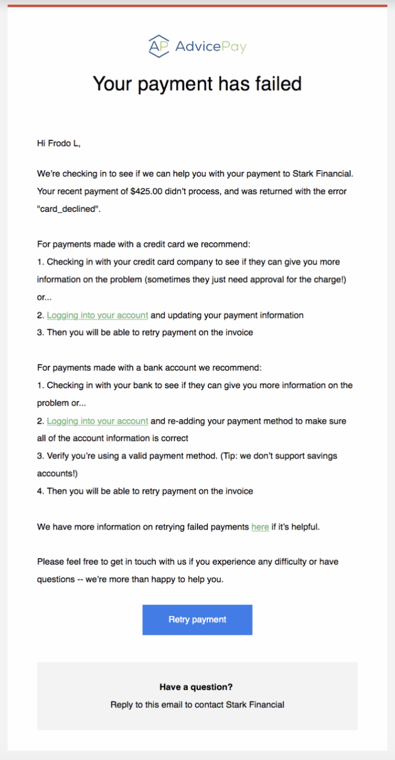 (You can add one additional automated reminder to be sent at the 2-day mark by turning on Failed Payment Reminders under Account Settings > Emails & Notifications.)

All your client needs to do from here is to either:
click the link in their email notice to retry the payment with existing or new payment information, or
login to their account and follow the link at the top of their screen guiding them to retry the payment!

During the payment retry process your client can either resubmit the charge using their existing information (perfect for circumstances where there might have been trouble with insufficient funds), or they'll have the opportunity to add and use new payment information instead (ideal when the failure was caused by an expired card or to ensure their checking account/routing number is correctly entered):
Once the payment is successfully charged, your client will receive an email confirmation for their records (and peace of mind)!
---
Happiness Hint :)
If you'd like to send your clients a resource on working with a failed payment, we have just the thing for you: What to Do if a Payment Fails
---
Here's to empowering your clients and increasing efficiency! Stay tuned for more Happiness Hints on the AdvicePay blog :)
As always, if you run into a question as you're using AdvicePay, we're standing by to lend a hand! Contact us directly through AdvicePay, or send us an email anytime at support@advicepay.com

Posted by Erika Madden

Erika is the reason you'll keep smiling, even in the (rare) event you have an issue with AdvicePay. As a mom of three kids with a Journalism degree, a long history of leading customer service, and a mild obsession with Lord of the Rings (extended version), you know Erika has the patience and tenacity to stick with whatever challenge comes up. Her problem-solving and communication skills are amazing, but honestly, it's her volunteer advocacy work with victims of domestic abuse that makes her our real hero.