Sometimes it is the little things that make a big difference -- like expanding our "Mark as Paid Feature." However, there's no doubt that the big things also make a big difference. In addition to bug fixes and product updates, we also released a pretty major feature in July. Drumroll please.... Mobile Check Deposit for Enterprise.
Check out our release notes below to get an overview of everything new and a sneak peek at what is just around the corner.
What we're most excited about 🎉
Marking Subscription Invoices as Paid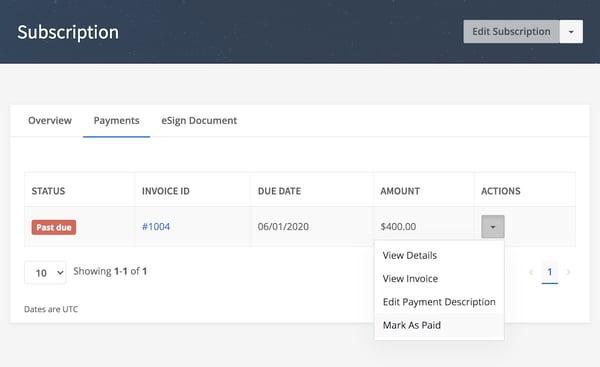 While we love the convenience of an online platform for secure and compliant payments, not all clients feel comfortable paying online -- or they may just need a little extra time to transition from paying via check to using ACH or credit/debit card information!
To help you serve these clients, we expanded our "Mark as Paid" feature to work with subscriptions. This makes it quicker than ever to accept a check or other outside method of payment for a client's recurring payment arrangement. (And still track it easily in AdvicePay.) Yahoo!
If you have a client who later decides they want to pay you through AdvicePay, they can log into their secure account and add a payment method under their account settings. We will begin automatically charging that payment method on their next subscription due date. Yes, it really is as simple as that!
Updated Transfers screen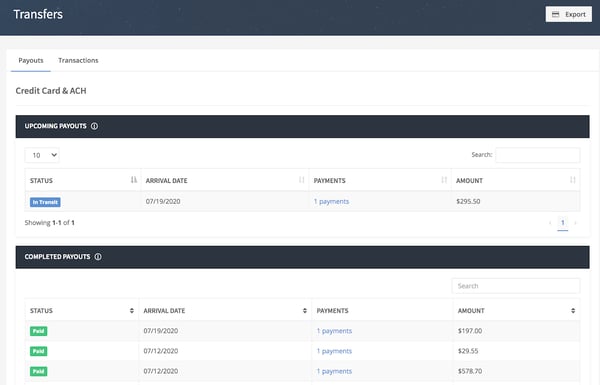 To provide more transparency and clarity on where your money is throughout the entire payout process, this month we worked on refreshing your Transfers screen (now located under Transfers > Credit Card & ACH).
Some of the benefits of the new page is that pending payouts will be visible during the entire transit process (not just immediately prior to receiving the deposit), and you can dig in further to see exact detail by using filters!
Check out all the details on the new display: Understanding Your ACH & Credit Card Page
Notifications for expiring subscriptions

Many of you who set up subscriptions to bill for a limited number of periods reached out to our Happiness Heroes to let us know that you'd like to be notified before they end so that you are always in the know regarding what's happening with client billing -- and we are so glad you did! (Most of our best features come directly from your input and requests, so please don't be shy...keep them coming!)
The new "Subscription Ending" notice we've added under your account email settings will send you an email notification 30 days before the last bill date for every client subscription. This notice is on and active by default, so you don't need to do a thing (unless of course you'd prefer to turn it off). Read up on how to manage this setting, and all direct email notices you can receive!
Mobile Check Deposit for Enterprise
When clients pay via check, we now offer the exciting ability to process the check payment directly through us with Mobile Check Deposit. Streamlining workflows for all financial planning invoicing, billing, and reporting for Enterprise home offices, this feature eliminates the need for multiple processes and platforms to manage various types of client payments. Firm advisors will be empowered to process checks easily -- from anywhere -- on one single platform that they're already using to receive ACH or credit card payments (AdvicePay)!
If you are a current Enterprise home office that would like to turn this feature on for your advisors, please reach out to sales@advicepay.com to get the process started.
If you are a Professional user, don't fret! Mobile Check Deposit is coming to you soon. 😊
---
Other Features & Bug Fixes
Updated Enterprise Basic pricing for new accounts -- check out our Pricing page for details!
Added phone number validation under Multi Factor Authentication
Added ability to mark invoices as paid directly from the Payments tab (part of new marking subscriptions as paid feature)
Excluded "upcoming invoices" on subscriptions from public invoices API unless specifically requested (part of new marking subscriptions as paid feature)
Updated the revert file swap option in eSign to be more visible
Updated the eSign Signature Complete Page to remove "there's nothing left for you to do" language
Added old Firefox browser versions to browser blocker (Tip: the best way to use AdvicePay is to always use a browser that has been updated to the latest version!)
Allow multiple API tokens for a firm
Added new transfers screen for tracking mobile check deposits on Enterprise
Backend updates to the Full Access Advisor role on Professional
Placed limit on invoice PDF downloads
Production certificate update
Server update
More behind-the-scenes fraud prevention!
Fix for icon pixelation in Multi Factor Authentication modal
Fix for the sent date on eSign document not matching actual date sent
Fix for eSign Sentry (internal) errors
Fix for subscription cancelation emails not being sent when a subscription is already paused
Fix for an "upcoming invoice" on a subscription displaying after subscription cancelation
Fix for error when attempting to update a client's email address to one that already exists under another firm in AdvicePay
What to Look Forward to:
ADA Accessibility updates
Improvements to pausing subscriptions
Mobile Check Deposit for Professional
---
Before you go:
Have a feature you'd like to see?
Visit our idea submission page on our website anytime to share your thoughts with our team!
---
Made with love in Montana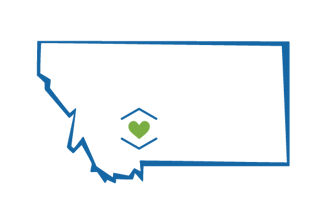 ---
Posted by Erika Madden

Erika is the reason you'll keep smiling, even in the (rare) event you have an issue with AdvicePay. As a mom of three kids with a Journalism degree, a long history of leading customer service, and a mild obsession with Lord of the Rings (extended version), you know Erika has the patience and tenacity to stick with whatever challenge comes up. Her problem-solving and communication skills are amazing, but honestly, it's her volunteer advocacy work with victims of domestic abuse that makes her our real hero.