April showers bring...Salesforce additions, Deliverable for Enterprise, and a multitude of other feature enhancements! That's how it goes, right?
Check out our full roundup of everything new in AdvicePay and get a sneak peek at what is just around the corner!
What we're most excited about 🎉
Salesforce Additions
We are excited to release a few additions to our Salesforce Integration! We've expanded the ways we can support your Salesforce account based on your configuration. We now support organizations using Practifi, and the Financial Services Cloud with personal or individual accounts. You can find details for the various supported setups here in our Knowledge Base!
We also have a step by step tutorial to get your AdvicePay account integrated with Salesforce here! https://advicepay-1.wistia.com/medias/5aq8noqi5o
Deliverables for Enterprise
Operationalizing and scaling a large volume of recurring financial planning fees can be challenging, and it can be even more challenging to oversee advisors charging such fees to ensure they're actually providing the appropriate financial planning deliverables. That is why we are excited to announce our latest enterprise feature -- Deliverables.
With AdvicePay Deliverables, all fee-for-service financial planning is tracked in one place. Ensure nothing slips through the cracks or gets lost in transit by easily tracking open, past-due, and completed financial planning deliverables. Avoid fee-for-no-service compliance risks by validating the quality of service that was delivered.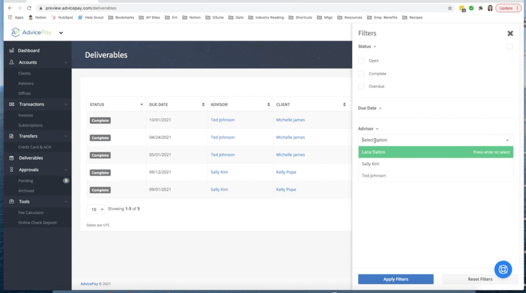 Benefits of Deliverables:
Avoid regulatory fines: Efficiently provide validation to regulators that the financial plan was delivered for the fees that were charged. Support fee-for-service and avoid fee-for-no-service!
Efficient workflows: With our scalable Deliverables feature, you can review deliverables in real-time -- for ALL of your advisors -- and throw out that spreadsheet for good!
Centralize financial plan oversight and payments: Your agreements, payments, and deliverables all live in the same system, ensuring all fee-for-service is tracked in one place.
Learn more about Deliverables here or, reach out to your Enterprise Relationship Manager at enterprise@advicepay.com to begin using it at your firm.
Other Features & Bug Fixes
Advanced rep code settings created
Added protected mode to custom properties
Change overdue and upcoming reminders for sub OTP to point to main invoice
Refresh subscription when invoice is canceled
Email validation preventing client name update
Sort order leading user to believe that duplicate upcoming invoices existed
Refund information not appearing on transfers page
Server hardening and vulnerability updates
Salesforce Additions
Pen test remediation
Added Client and Advisor External ID to Agreements endpoint
Added SMS verification to view signed DocuSign documents
Added the ability for HO to submit Deliverables
Added the ability to create new deliverables from agreements and connect them
Added advisor metadata to public API create and update
Fix for payments paid via CC over 1 month ago still showing as "In Transit" on Transfers page
Fix for disallowing plan upgrade to ent+ from the UI
Fix for template button appearing when it shouldn't
Fix for adding email validation for BCC recipients
Fix for being unable to choose single day for transaction report
Fix for advisor custom properties appearing on client export
Fix for client export failing with large number of custom properties
Fix for expired registration link leading client to create advisor account
Fix for next bill date and last bill date not matching
Fix for deleting SSO ID
Fix for no-login advisor not obeying account owner's email settings
Fix and report on XYPN subs that didn't have coupon code discount applied retroactively
Fix for admin receiving error message when requesting payment
What to Look Forward to:
Deliverables Enhancements
---
Before you go:
Have a feature you'd like to see?
Visit our idea submission page on our website anytime to share your thoughts with our team!
---
Made with love in Montana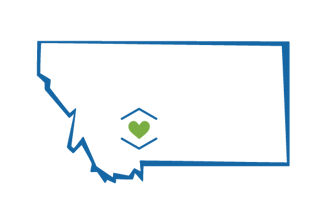 ---
Posted by Lana Dalton

Lana is a Happiness Champion (aka Relationship Manager) at AdvicePay and loves helping enterprise users implement and optimize the AdvicePay platform. After graduating from the University of Washington in Seattle, Lana spent the past three years working in the tech industry, helping organizations implement software, create training content, and establish onboarding processes. When she's not helping our enterprise users, you can find Lana trail running, backcountry skiing, and cooking different types of cuisine.