Welcome to May's release notes! This past development cycle, our team continued to make helpful additions to our new Enterprise-level Deliverables feature. Some smaller improvements you may also notice include better client searchability within AdvicePay and less system emails going to spam/junk folders.
Let's dive into our release notes below to check out everything new and get a sneak peek at what is just around the corner!
What we're most excited about 🎉
Deliverables Enhancements
Our Deliverables feature on Enterprise was released back in April and we've been busy ever since adding popular enhancements! Here are two fun additions added this month:
eSign Documents as Deliverable Evidence
Firms can now set up templates giving advisors the option to submit an eSign document as evidence of the deliverable. This eSign option integrates with your existing HelloSign or DocuSign integration, making it cinch to get a document signed and included as evidence!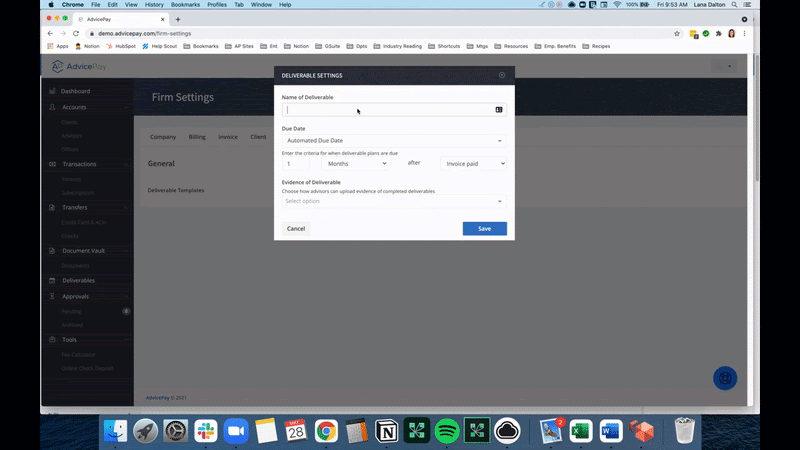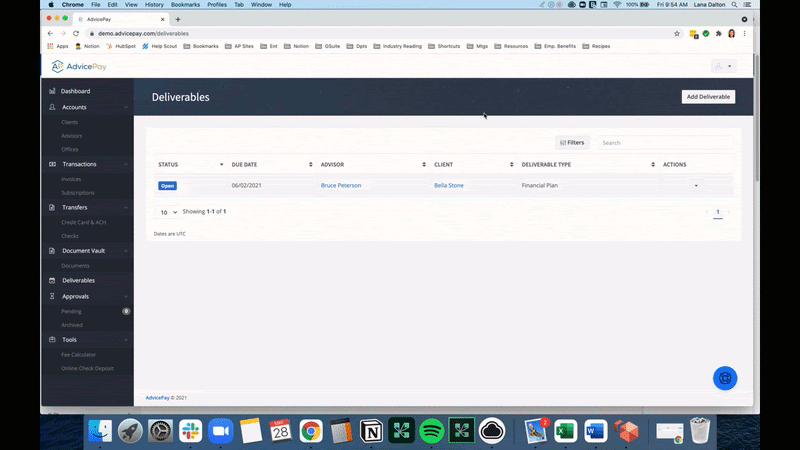 Custom Deliverable Due Dates
Firms also now have the ability to set up Deliverables templates with custom due dates. This allows you to select any date (past, current, or future) that you want that deliverable submitted by, versus having it automatically calculated based on an "invoice paid" or "agreement signed" date: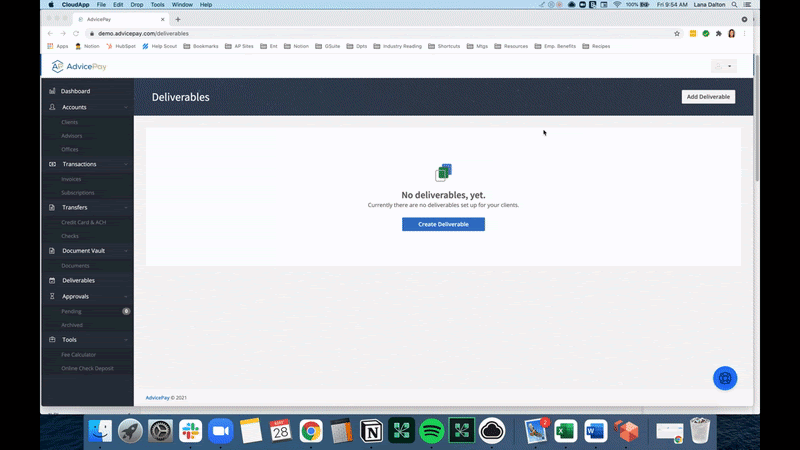 Read here for all the details on how to set up Deliverable templates, as well as how to submit eSign documents as evidence!
Other Features & Bug Fixes
Added Deliverables activity to the Audit Log
Added immediate notification when there is an invoice available for Approval
Updated Advanced Split Rep codes so the client's advisor is always required
Added ability to search clients + advisors in AdvicePay by full name
Added alt text to logo images in emails for better accessibility
Added friendlier message for Docusign error
Changed AdvicePay's email sender address to improve deliverability
Removed "click here" text from email footer to reduce chances our emails are caught up in spam filters!
Added advisorID to transactions on API
Added advisorExternalID to advanced split rep code on API
Corrected API docs for Admin/Advisor
Added metadata to API docs for advisor create/update
Plaid authentication update
Added Plaid link customization in order to show different versions to different users if needed
Upgraded to Go 1.16 and other DevOps quarterly maintenance tasks
Fix for canceling SMS verification results in invalid state
Fix for ignoring Docusign "sent" webhook for docs sent via DocuSign UI
Fix for deliverable emails being sent to No-login advisors
Fix for removing advisor link to other office advisors in template index
Fix for applying internal Ent+ designation to admins when switching in Super Admin
What to Look Forward to:
Elimination of "Failed" invoice emails for subscription invoices marked offline as paid
More Deliverables enhancements (we just can't stop!)
Engagements

---
Before you go:
Have a feature you'd like to see?
Visit our idea submission page on our website anytime to share your thoughts with our team!
Share your story with us!
We would love to hear about how AdvicePay has been a success for you! Fill out this form to be considered for a success story blog post.
---
Made with love in Montana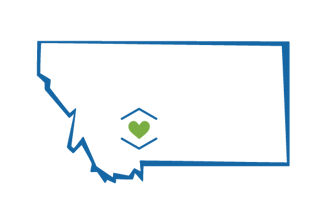 Posted by Lana Dalton

Lana is a Happiness Champion (aka Relationship Manager) at AdvicePay and loves helping enterprise users implement and optimize the AdvicePay platform. After graduating from the University of Washington in Seattle, Lana spent the past three years working in the tech industry, helping organizations implement software, create training content, and establish onboarding processes. When she's not helping our enterprise users, you can find Lana trail running, backcountry skiing, and cooking different types of cuisine.