Ahhh, February -- the month of love! This month, our team gave some love to our eSignature features (lots of new stuff there), AdvicePay's shiny new integration abilities with Quickbooks and other accounting software (boom), and Client Email Control settings -- to name a few.
Here's a quick review of what's new!

What we're most excited about:
New eSignature Features

Business Importer Integration

Client-Side Email Control
Other Features & Bug Fixes
Only send contract emails from payment request creation if opted to send emails
More data added to transactions export: advisor email, invoice frequency, if recurring, start date + end date if it has an end date
Add advisor name to invoice/subscription tables on Enterprise
Promo code submission area added to Basic/Pro account profiles: read more
Phone number added to statement descriptor: to help reduce credit card disputes
Base Next Bill Date off of Stripe for better accuracy
AWS Auto Scaling groups (behind the scenes - lets us automatically spin up servers depending on load)
Procedures refactor to make dev testing easier (behind the scenes)
Add validation for invoice amounts to make sure they are at least 50 cents
Add validation to prevent duplicate signers on contracts (same email and name)
Some public API work (behind the scenes right now)
Handle already completed signature
Handle HelloSign API downtime
Fix refund amount being off on old pages
Fix subscription date range on invoice being off by a day sometimes
Fix hiding loader when there is an error updating email on client profile page
Dashboard fix for projected revenue on active but uncharged sub
---
New eSignature Features!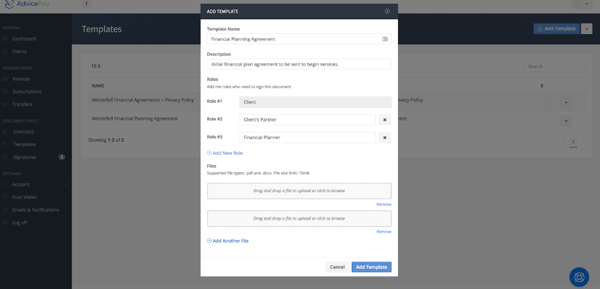 Fancier than Ever -- Same Great Price!
We've added some terrific options and simplified how you can keep track of your documents.
1. Assign Roles for signees, such as "Client," "Partner," "Financial Advisor," "Compliance Officer," etc.
2. Send agreements to any additional signee via email. This means partners, compliance officers, and other necessary signees can independently sign any AdvicePay contract, and they don't need an AdvicePay account!

3. Contract, Template, and Signature management is now made via separate pages, making it easier to drill down on precisely what you want to do -- and avoid information overwhelm.
4. Upload multiple documents at once to form a single contract template for signatures.
5. Send out email reminders to everyone who has yet to sign a contract.
6. Cancel a contract completely.
7. Track eSignature activity through your Audit Log.
Read more on the help desk: https://advicepay.helpscoutdocs.com/category/301-esignatures
Business Importer Integration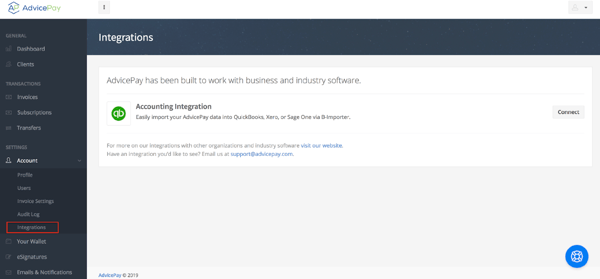 Hello, weekend! Save time with AdvicePay's new accounting software integration.
Our new integration with Business Importer is a fantastic way to improve efficiency if you're a user of Quickbooks Online, Xero, or Sage One. We built it to help you spend less time in bookkeeping tasks and more time in what you love -- helping people with their financial planning!
Blog post: https://blog.advicepay.com/blog/b-importer-integration
Client-Side Email Control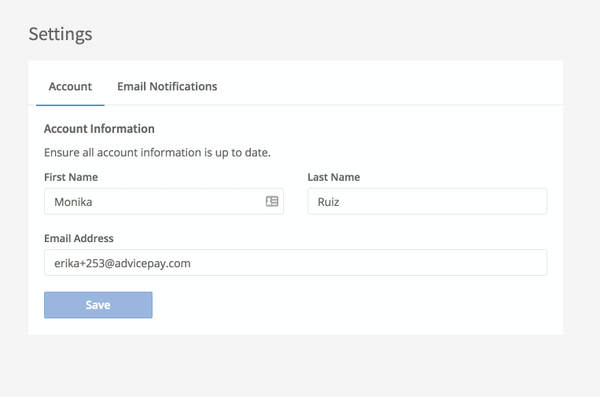 Your clients now decide and control what email they receive -- or not.
Here at AdvicePay we love providing your subscription clients with fee transparency so that they can stay up to date on their billing and always know exactly what + when they'll be charged!
At the request of regulators, by default your client will always get:

an email notification 7 days before an approved subscription bills

an email notification when your automatic subscription payment successfully charges your account

However, some clients would prefer a little less in terms of notifications, and want greater control of the emails that they receive. We understand! That's why we've created a new Settings area in client accounts to give them the power to choose.
Because these settings are 100% controlled by the client, regulators everywhere rejoice while you stay compliant. Win-win!
Are your clients asking for less emails? Pass this how-to tutorial on to them!
---
What to Look Forward to:
Mobile-optimized payment flows for clients!

Making a one-time payment without logging in

Additional clients on a client account

Advisor + Client in one account
---
We'd Love to Hear from You!
Are there features you'd like to see on AdvicePay? We'd love to hear about them! Visit our new idea submission page on our website anytime to share your thoughts with our team!
---
Made with love in Montana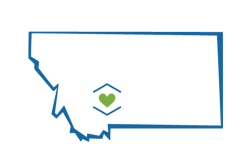 Posted by Erika Madden

Erika is the reason you'll keep smiling, even in the (rare) event you have an issue with AdvicePay. As a mom of three kids with a Journalism degree, a long history of leading customer service, and a mild obsession with Lord of the Rings (extended version), you know Erika has the patience and tenacity to stick with whatever challenge comes up. Her problem-solving and communication skills are amazing, but honestly, it's her volunteer advocacy work with victims of domestic abuse that makes her our real hero.