March has been a busy month at the (new) AdvicePay office! Our team knocked out some pretty serious upgrades and fixes. Check out our release notes below to read up on how you now have additional client logins, bulk invoice downloads, and mobile-optimized payment flows for clients.
What we're most excited about:
Additional client logins - Clients can now add name + email combos on their account to grant access to other people (e.g. partner, or admin).
Bulk invoice downloads - Invoices can now be downloaded not only individually, but also by subscription, by client, within a timeframe, or for all time. Wahoo!
Mobile-optimized payment flows for clients - We made it even easier for your clients to pay you! Yep, even from a mobile device.
Other Features & Bug Fixes
Client invoice display name: Advisors can now specify a "display name" that shows on invoices when creating/editing a Client. For example, if you have a client "Jane Smith" but you want invoices to reflect that you're billing "Jane and Jake Smith" or "Smith LLC," that is now possible.
Added auto-filled eSign text fields for signee names: Clients + other signees don't need to fill in their own name on contracts/a new template no longer needs to be created for each contract simply to fill in the signee names.
Made description text box editable: Allows a saved description of service to be easily changed while requesting a payment.
Allow Enterprise Full Access Advisors to manage their own Admin/Billing users: Because we all could use another helping hand.
New API endpoints: (Advisor/client show, advisor list) + search functionality.
Email copy tweak: Changes wording in subscription activation email that goes to clients to make next billing clearer.
Sort on Next Bill Date in subscriptions table
Nicer empty states for invoice/subscription tables
After hours: Better ENV variable management: Behind-the-scenes work that improves dev life.
Hide download button for voided contracts on contract show page
Fix: Dashboard overdue count vs invoice table discrepancy
Fix: Email copy for subscription activation email notice to advisors
Fix: eSign contract auto fill fields not updating after invoice/subscription edit
Normalize special characters for invoice PDF download: Normalizes characters like "ë" and "â" to "e" and "a," rather than rendering a circle symbol.
Added new support email to get BCC'd from the app: Failed payment notifications to clients and email update confirmations won't ever trigger an auto-reply to advisors from Help Scout.
FULL DETAILS
Additional Client Logins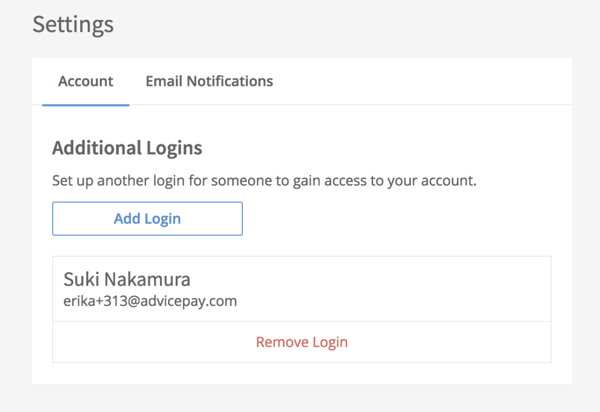 If a partner/spouse -- or even an administrative assistant -- also needs access to a client's account so that they, too, can pay invoices and manage billing, clients are able to add them by giving them login capabilities through their own client portal.
The additional user(s) can do everything the client can, except sign contracts on their behalf and add/remove additional logins. Fancy!
Bulk Invoice Downloads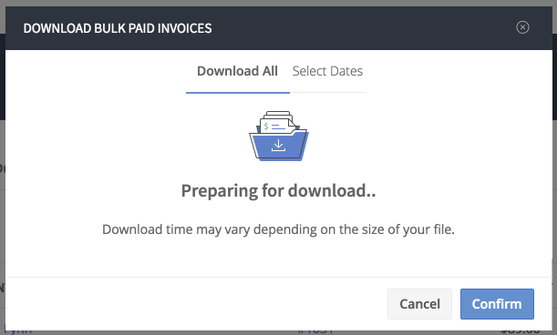 Downloading invoices one-by-one is fun for, oh, the first two times. After that, it becomes important to access and archive your invoices a little more efficiently.
Now you can download every paid invoice on your account with a click of a button, or be more selective (but still earn the title of Speedy McSpeedster) by limiting them to a timeframe, to a client, or to a subscription.
Mobile-Optimized Payment Flows for Clients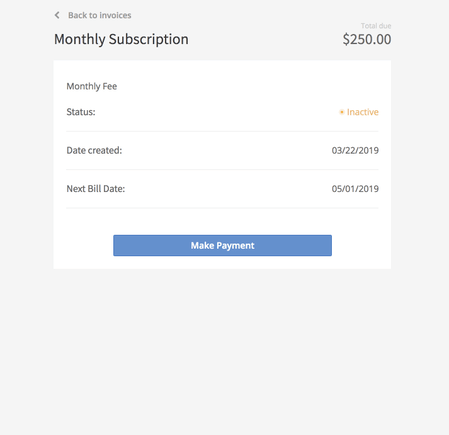 Making a payment on a mobile phone ought to be a simple endeavor for all clients -- not just those who are adept at the "pinch and zoom" and "point and drag" methods of navigation. We don't want anything to stand in between you and your funds, so we're stepping up our mobile game -- starting with the client payment screens!
This new mobile-optimized design helps your clients get from start to finish painlessly. We encourage you to check it out for yourself here!
---
What to Look Forward to:
COMING SOON TO YOUR VERY OWN ADVICEPAY EXPERIENCE:
Advisor + Client in one account
Teams: a new AdvicePay plan to support small firms with multiple advisors!
---

Made with love in Montana

---
Posted by Erika Madden

Erika is the reason you'll keep smiling, even in the (rare) event you have an issue with AdvicePay. As a mom of three kids with a Journalism degree, a long history of leading customer service, and a mild obsession with Lord of the Rings (extended version), you know Erika has the patience and tenacity to stick with whatever challenge comes up. Her problem-solving and communication skills are amazing, but honestly, it's her volunteer advocacy work with victims of domestic abuse that makes her our real hero.