Hi there! Erika here, your AdvicePay Happiness Hero. I'm coming to you today to alleviate your very next non-burrito-related episode of heartburn due to...overdue invoices!
It's a common dilemma: you've provided your advice to your client, and now you're just waiting (and waiting...) to get paid. You don't want to be THAT advisor who nags and hounds your clients for money. Yet, you do like getting paid on time. What to do?
AdvicePay is built to help take much of this burden off of your shoulders. As you often do, you have options within the AdvicePay system! Let's walk through how AdvicePay reminds busy clients to pay, plus how to customize these reminder settings if you choose.
The 2 Things You Need to Know
1. Reminders are set to go out by default in AdvicePay.
We prioritize getting paid around here and we know you do, too. So, the AdvicePay system is set up to manage these reminders for you, keeping your clients informed and your bank account happy.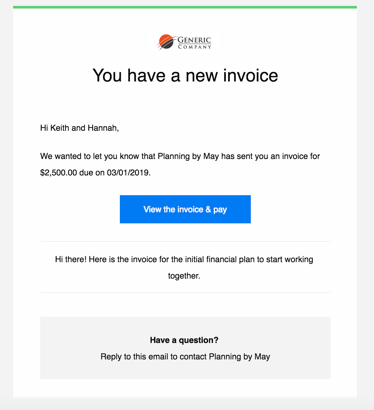 Here's the Default Client Reminder Experience
We'll send an email to your client three days before the due date on their invoice to remind them they have an invoice on their account that is awaiting payment.

If your client doesn't log in and pay, AdvicePay will send them another email reminder one day after the invoice due date. (You will see that an invoice hasn't been paid by its due date if it's labeled with an overdue symbol under its status.)

A reminder email will always be sent for an invoice UNLESS a change is requested within the reminder interval setting. (So, if you create an invoice within one day of its due date, and your overdue invoice email interval is set to one day after the due date, that overdue reminder will not go out to the client.) In all other cases, your client will receive a reminder to make their payment -- whether or not you emailed them the original request for payment.



Can I change the default reminder settings?
Yes, you can definitely do that! Manage, customize, or turn off invoice reminders completely by following these Client Email Notification instructions.
---
What if my client is showing as "Unregistered"?
"Unregistered" means that your new client has not set up their AdvicePay account yet. Invoice reminders are still sent out to unregistered clients, and they can easily establish their account directly through this email.
Once they set their password and login they will immediately see your open invoice in their dashboard and have the ability to authorize payment. Hooray!!!
---
2. You can send reminders manually through AdvicePay.
If you want to motivate a client to pay at anytime, you don't have to send them an email from your personal email -- you can send it manually via AdvicePay.
How to Do It
Log into your AdvicePay Advisor account

Go to Invoices or Subscriptions in your sidebar

Click the drop down menu for the relevant payment request

Select Send Reminder.
Bookmark these instructions on our Help Desk site for easy reference later!
---
Well, that's it for overdue invoices.
Here's hoping your clients don't need them, but when a bit of a nudge is helpful, don't worry -- we've got you covered. :)
As always, if you run into a question as you're using AdvicePay, we're standing by to lend a hand! Contact us directly through AdvicePay, or send us an email anytime at support@advicepay.com.
Warmly,


on behalf of Team AdvicePay
Posted by Erika Madden

Erika is the reason you'll keep smiling, even in the (rare) event you have an issue with AdvicePay. As a mom of three kids with a Journalism degree, a long history of leading customer service, and a mild obsession with Lord of the Rings (extended version), you know Erika has the patience and tenacity to stick with whatever challenge comes up. Her problem-solving and communication skills are amazing, but honestly, it's her volunteer advocacy work with victims of domestic abuse that makes her our real hero.