As a financial advisor, you want to provide your clients with responsive service, proactive communication, and an overall exceptional experience. A critical piece of ensuring that your clients are delighted is knowing both what your clients experience in the tools you use to serve them and how these tools benefit them.
When it comes to using AdvicePay, equipping our advisors with the knowledge needed to deliver on that first-class client experience is -- to borrow the words of the magnificent Julie Andrews -- one of our favorite things!
Early on we designed the system so that advisors could easily understand their clients' experience within AdvicePay by setting themselves up as a test client. (We still love to recommend this!) Whether you've just signed up or you've been billing for a while, there's nothing quite as instructive as seeing how things work from a client's eyes.
That said, we get it: not everyone has time to play around with the system in this level of detail. Instead, we can show you exactly what your clients experience!
Below we cover the basics around how your clients interact with AdvicePay, ensuring that you are confident in your billing and have the knowledge to set your clients' questions at ease immediately.
1. How does my client set up their account?
Getting your client set up on AdvicePay is simple and fast!
When you add a client to AdvicePay and send them an invoice, the client can easily go straight to setting up their account and/or making their payment right from the invoice notification email. (We will cover how clients can make a payment without logging in later.)
If your client chooses to set up a password to register their client portal, they will be automatically directed to a "Set Password" page. On this screen, they will enter any password they'd like to use to access AdvicePay.
For security reasons, it must be at least eight characters long and include an uppercase letter, lowercase letter, number, and symbol: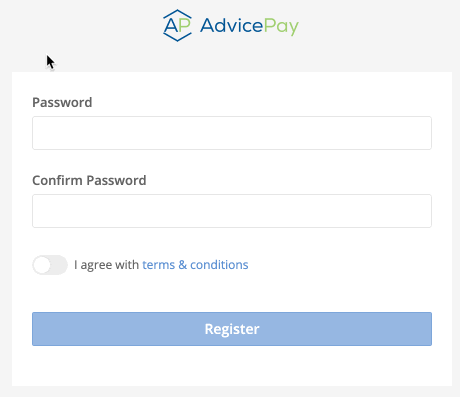 Once they've chosen their password and accepted the Terms & Conditions, they can click " Register" and jump directly into their client portal!
In the future, they can log back in anytime at https://app.advicepay.com -- the same place you log in to your advisor account! And just like advisor accounts, they'll use their email address as their username and the password that they set above.
👉Tip: Passwords can be easy to forget. If a client has any trouble logging in, we encourage them to visit the Forgot Your Password link on the login screen to initiate resetting their password!
2. What do clients see within AdvicePay?
After your client sets up their account, this is an example of what your client might see immediately upon logging in after you have issued them a one-time invoice, a separate subscription invoice, and a document to sign: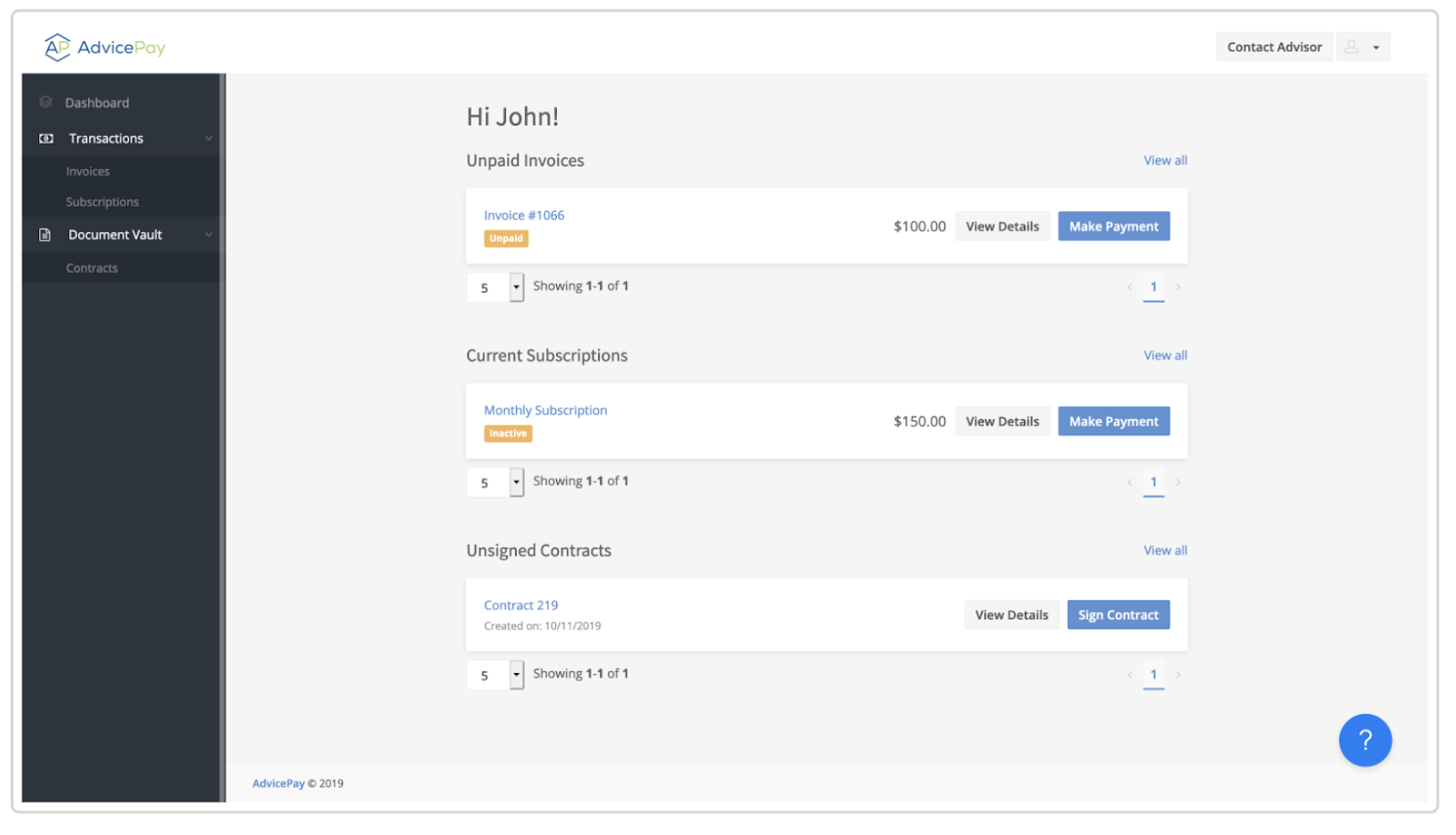 3. How does my client make a payment?
After you've requested payment(s) and your client logs in to their account, they will click Make Payment on a one-time invoice or subscription on their Dashboard to authorize payment on it:






If your client accesses their invoice directly via a link in their email, they'll be automatically taken to the next screen in the process:




Next, the client will add their payment information.

🗒️Note:

If you have chosen to

only

be paid via ACH or

only

via credit/debit card, the client will see only that option displayed in the screenshot below.






Clients can use Visa, Mastercard, American Express, Discover, and JCB Diners Club credit/debit cards on AdvicePay if you accept credit cards as a method of payment. They can use one of these cards to pay quickly via Apple Pay, Google Pay, or Microsoft Pay as well.

For ACH payments we have over 500 banks available for automatic linking under our quick connect option with our integration partner Plaid. To add their account this way, the client will need their online banking login information. Or, clients can always manually add their bank account and routing number instead!

Once the account the client wants to use is added and selected, they'll make a final review of their payment.

For subscriptions with due dates set in the future, they will not be charged immediately upon authorizing the invoice -- instead, their account will be debited on the date indicated:





When they're ready, your client will click the Confirm & Pay button. We will not charge the client or activate their subscription until this final step is completed!




Once an invoice is paid or a subscription authorized, the client will receive a confirmation on their screen and receive a confirmation notice via email.

A successfully authorized subscription will display as Active:



4. How can my client pay without logging in?
For easier payments, clients can pay one-time or subscription invoices even without creating an AdvicePay account or logging in to their existing account!
Payment Process for Clients Who Are Unregistered
When you add a client and request a one-time or subscription invoice, the invoice link you send to your still-unregistered client will automatically send them to a page that looks like this:
Throughout this process, your client may choose to pay without creating an AdvicePay account login, or they can create an account before/after paying if they so choose.
By clicking on Pay without an account, your client will:
Be prompted to enter their payment information




Click Next, then Confirm & Pay
.
If your client should decide to register their account later, their Paid invoice(s) will display in their account as normal!
Payment Process for Registered Clients Who Do Not Log In
When you request a one-time or subscription invoice, the invoice link you send to your already-registered client will automatically send them to a page that looks like this:
Throughout this process, your client may choose to pay without logging in, or they can log in to their account before paying if they so choose.
By clicking on Pay without logging in, your client will continue with the same steps as outlined above.
🗒️Note: While we offer this feature to make it simple for clients who want to pay without logging in (and to accommodate those who just don't want another set of log-in credentials), as a best practice we eagerly encourage you and your clients to consider the benefits of their own client portal. Check out this blog to learn more about the pros associated with client account registration!
What about making a payment when there is a document requiring eSignature?
If you attach an eSignature document to an invoice, clients who want to pay without logging in can still do so. They will be guided through the signing process first, and can then proceed to payment when all required signatures are collected. Boom!
5. How does my client update their payment information?
If you have clients on subscriptions and their payment information changes, they can stay on their existing billing without any interruptions. We've made entering different payment information a breeze!
All clients have to do is:
Log in and visit Account Settings > Billing
Enter their new checking or credit/debit card information
Select Make Default on the new account listing (this allows any active subscriptions the client may have to automatically bill against that information on their next bill date)


They can then delete the old account information if desired!
👉Tip: If you have a client who needs to update their info but hasn't officially registered their account yet, no worries! They can enter their email on file over at https://app.advicepay.com/forgotpass and we'll send them a link allowing them to register. Or, you can always send them their Invitation link:
---
At AdvicePay, we care about your clients' experience as much as you do. That is why we have created a client-facing Help Desk that will walk your clients through everything from making a payment to adding another user to their account.
Additionally, we have some client-facing guides for you to send to your clients:
Our Happiness Heroes support EVERY user of AdvicePay -- including clients -- so they can also reach us right through the app or by emailing support@advicepay.com!
---
Have more questions about what your clients experience in AdvicePay?
We've got your back. Check out our Advisor Help Desk covering the entire client experience in AdvicePay!
---
Posted by Erika Madden

Erika is the reason you'll keep smiling, even in the (rare) event you have an issue with AdvicePay. As a mom of three kids with a Journalism degree, a long history of leading customer service, and a mild obsession with Lord of the Rings (extended version), you know Erika has the patience and tenacity to stick with whatever challenge comes up. Her problem-solving and communication skills are amazing, but honestly, it's her volunteer advocacy work with victims of domestic abuse that makes her our real hero.