APRIL RELEASE NOTES SUMMARY:
Emails to clients include the advisor email address
Add Additional Admin Users on Professional and Enterprise
Cancel Unpaid/Inactive Invoices Without Notifying Clients
Enterprise Firm Managers Can Delete Advisors
Sorted Data Tables
Optimization of Tables on Mobile
Manage AdvicePay plan
What to Look Forward to:
$10/Month Basic AdvicePay Account
Refunding clients within your AdvicePay dashboard
Marking invoices as Paid when paid elsewhere
Custom invoice disclosures
Editing an unpaid invoice
View Only Advisor on Enterprise
Plus more!
Advisor's Email Address Added to Emails to Clients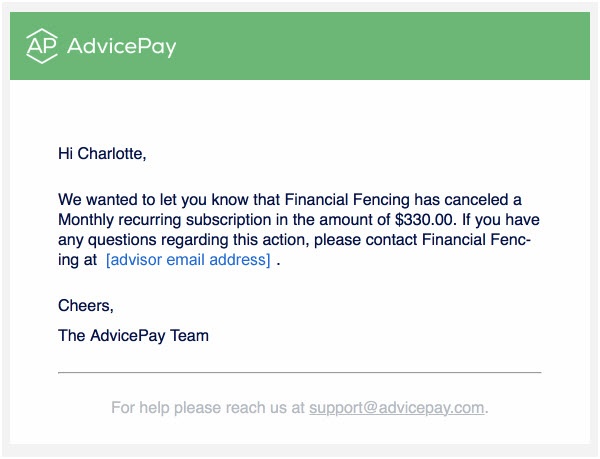 If one of your goals this year has been to improve your client communication, you're in luck! To help your clients get in touch faster when they have a billing question, your email address is now included in our automatic email notifications.
Professional and Enterprise Accounts Can Add Additional Administrative Users
You can now add a 2nd (or even 3rd!) user to your AdvicePay account by granting them either Admin or Billing administrative access.
Ideal for operation managers and paraplanners, the Administrative level of access will allow your additional user to invite clients, set up billing, track and manage payments and more. They will not be able to change your billing information, or the bank account that receives client funds, so you never have to worry about granting too much access!
The Billing user type grants the ability to login to AdvicePay and view all of the necessary information, however they can't make any changes. We like to call this view-only, as they will be able to see your client information, billing you have setup, and download a transaction report, but they won't be able to invite clients or set up a new billing schedule for your clients. This user type is ideal for your billing manager, bookkeeper, or administrative assistant that needs to be able to reconcile billing, but not actually make any changes to your account.
There is not a fee for adding users, so click here to learn how to start adding them!
Cancel Unpaid/Inactive Invoices Without Notifying Client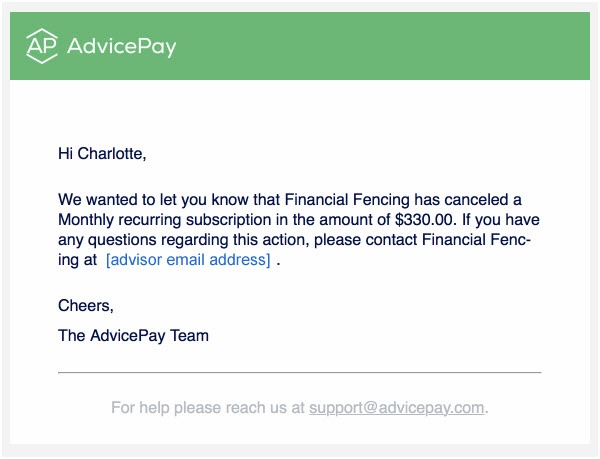 When setting up a request for payment, mistakes sometimes happen or revisions need to be made. We've made doing this a little nicer by removing the cancellation email notifications for unpaid and inactive invoices, so clients don't get unnecessary alerts about every change you make!
Now the only time a client will receive an email notification that an invoice has been canceled is after they've already taken action on it (for instance, they've authorized payment on subscription).
Sorted Data Tables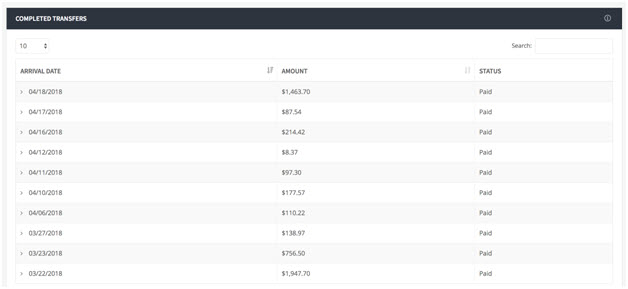 We've been working on making the way we display information more intuitive, so you can see the most important things first. On the Get Paid screen, subscriptions and invoices now sort in the order of:
Failed

Inactive

Active

Canceled
In addition, the dates sort by Next Bill Date so that the newest date is at the top.
On the Transfers screen, payouts to your account now sort by Arrival Date/Estimated Arrival Date with the most recent date first.
Enterprise Firm Managers Can Delete Advisors on Their Account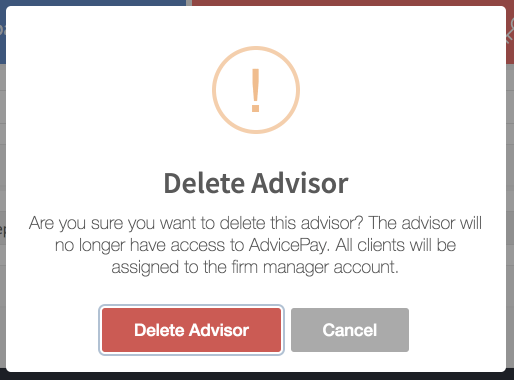 If you need to delete an advisor, we make transitioning clients a breeze! All of a deleted advisor's clients will be automatically transferred to the firm manager's account and they'll continue to have AdvicePay access. Furthermore, all client invoices that are unpaid, failed, or pending -- included all subscriptions except those that have been canceled -- will get moved to the firm manager's account as well.
Downgrade An Enterprise Account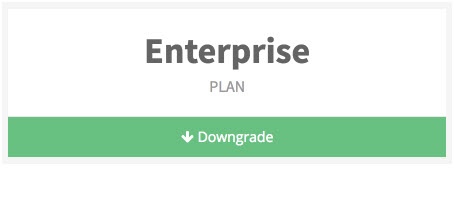 If the Enterprise plan no longer fits your firm's needs, you can downgrade to our single advisor Professional plan right from your account settings! Here's how.
We build AdvicePay for you! If you have a specific feature request you'd like to see, please shoot us an email at support@advicepay.com!
Posted by AdvicePay