Money, Money, Money, Mon-ney…MonEY!
We both know you love your clients, and you love helping them. It's not only rewarding, it makes a significant difference in people's lives – both now and long into the future. But, you're also in this to get paid and provide for your own lives – and that's great, too! One of AdvicePay's primary goals is to make earning a living as a financial planner just a bit easier, because we firmly believe that receiving money shouldn't = stress.
So today, let's talk about your finances and review how getting paid via AdvicePay works for you as an advisor.
1. How does getting paid with AdvicePay work?
Once you've set up your AdvicePay account, invited clients, and sent them an invoice, there is nothing more you need to do on your end to receive payment.
New clients will need to log into AdvicePay to set up their account and enter their payment information. Once they pay an invoice, however, AdvicePay takes it from there. We'll process the payment via the method they chose, while you can sit back and wait for the money to land into your account.
There's absolutely nothing you need to do to "push" accepted payments to deposit into the bank account you've provided to AdvicePay. We'll simply get that money deposited for you ASAP. Payouts are issued on a daily rolling basis, so as soon as a payment is successfully processed, it goes straight to you!

Want more info on the payment process? Let's dig in!


2. How long does it take until you see money in your account?
Credit Cards
The beauty of clients paying with credit cards is that you get paid almost right way. Generally, expect to see money in your account 1-2 business days after a client processes a payment via credit card in AdvicePay. Bank holidays do impact this timeline.
ACH
Enabling clients to pay with their checking account is significantly easier when they use AdvicePay. The bank transaction requires about 5 business days to process, plus another 1-2 days for the payment to deposit into your account. Expect to see money reach your account in 7-9 business days, with the occasional adjustment made for bank holidays.
INQUIRING CLIENTS WANT TO KNOW
Can a client pay via a brokerage account?
You bet! Most brokerage accounts need to have ACH enabled, which the client is able to do through their financial institution. (It's typically a simple form to fill out, which in return activates ACH and gives your client an account + routing number to make online debits.)
3. Which credit cards does AdvicePay accept?
AdvicePay accepts all major debit/credit cards: Visa, Mastercard, American Express, Discover.

4. How can I check on the status of a payment?
Keeping tabs on your income is important, so we've designed AdvicePay to provide transparent payment tracking without risking custody.
Status of an Individual Invoice
You can view the status of an invoice anytime by clicking Invoices or Subscriptions in your sidebar in AdvicePay. When you click View Details for an individual payment, you'll see a complete overview of what was charged, when the invoice was issued, when it was paid, how it was paid, and the current status.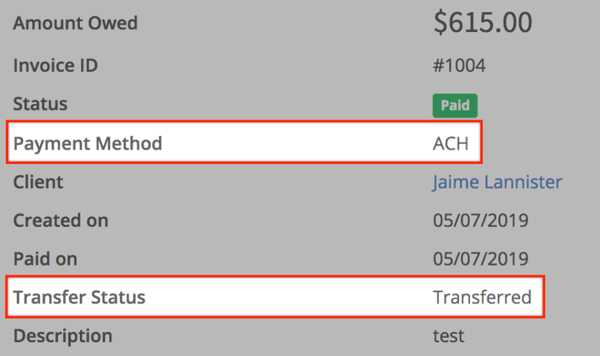 Status of All Payments Coming Your Way
You can also find the estimated arrival date of a payment, info on pending or completed payouts, plus specific client payments and related transaction fees when you open Transfers in your AdvicePay sidebar.
Can't find a recently paid invoice under Transfers > Pending Transfers?
It can take approximately one business day to receive transit information from the client's financial institution once it finishes processing. This means that there is about a 24-48 hour period when you won't see a client's payment listed anywhere on the Transfers screen. Don't worry, it's not missing -- you'll see it show up here soon!
5. What if I need to issue a refund?
Sometimes things change and you may need to refund all or part of a client's payment. You can do this easily via the View Details window described above. Next to the status indicator, click the Refund link. Refunded payments take about 5-10 days to be reflected back on the client's statement!

---
Have more questions?
Team AdvicePay is standing by, ready to dive all in if you run into a question or an issue! We happily invite you to reach us anytime at support@advicepay.com, or via the contact beacon in AdvicePay.
Remember, you can also find more information in our handy AdvicePay Knowledge Base, too! We've posted a lot of tutorials + FAQs that just might have the answer you're looking for. 😊
Posted by Erika Madden

Erika is the reason you'll keep smiling, even in the (rare) event you have an issue with AdvicePay. As a mom of three kids with a Journalism degree, a long history of leading customer service, and a mild obsession with Lord of the Rings (extended version), you know Erika has the patience and tenacity to stick with whatever challenge comes up. Her problem-solving and communication skills are amazing, but honestly, it's her volunteer advocacy work with victims of domestic abuse that makes her our real hero.